Girls Varsity: The Tough and Honorable Road to States
Congratulations to Girls Varsity for making HISTORY in a major way on Tuesday night. They secured a chance at the STATE title with their win. #roadtoSTATES #2teams1family
The Road to States started off slow with a heart wrenching loss to Thomas Edison. These ladies played smart and with Warrior Pride! The ending score of 59-52 showed that these warriors kept it close the entire time. They need to score first, fast, and often when they square up against the Eagles this Saturday at 6pm at Edison for the game that decides who is the Regional 5 A champions. (Be at Edison on Saturday. Support.)
Next game was against Orange County.  Winning with the ending score of 55-31. "It was a game the we had to win. We knew what had to be done, we came out, we did it." said Power Forward and sophomore Hannah Foley. These ladies are working hard and are pushing themselves.
They made history Tuesday night. Their win against Mountain View secured them a shot at States. The ladies didn't even know they had qualified for States until the announcer said it! Best surprise! Senior and Forward Lyrin Hatcher said, "It felt great to win that game. We haven't been able to make it this far ever. It confirmed for me that all of the work that we've been putting in as a team is paying off." She continued, "Going to states has always been our goal and it feels amazing to know that we've finally gotten there." That night the Ladies took the DUB against Mountain View, 79-53, and their game to fight for the State title was secured. "This feels so unreal." said junior and Forward Jami Tham.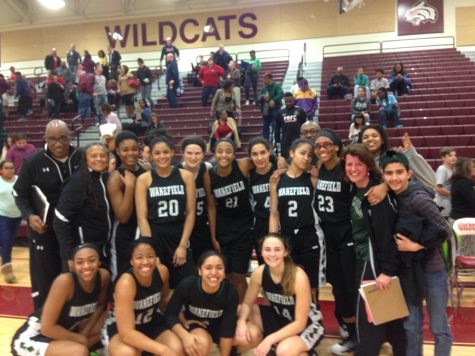 Tuscarora is an old rivalry. These senior starters have had to tussle with Tuscarora twice this season, and many times in their four years on the team. It was tied at the half, and never really got very far in the point spread until the 4th quarter. In the 4th, the girls played great defense and did not allow the Huskies to put more than two points on the board. The final score was 47 – 39, Wakefield. Our ladies were ready for the final battle between Edison and Wakefield. The final round of Regional play.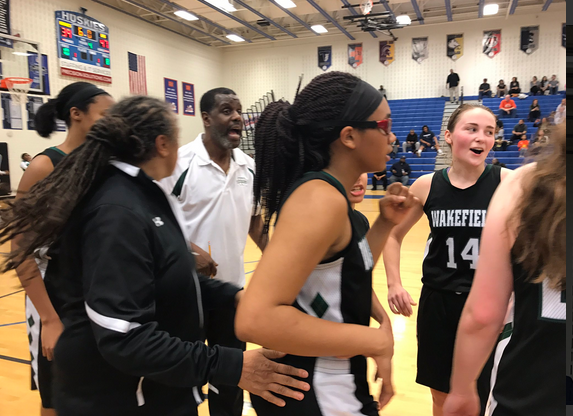 Senior and Power Forward Lyrin Hatcher had this to say after the game, "The momentum from winning all of these games will propel us into the Edison game. I need to focus on defending one of their best players…number one. I also need to start scoring from the beginning of the game."
Sophomore and Forward Lauryn Freeman said this of playing on the court this season, " Don't try to be as aggressive as me. There is only one me on the court." She is proud to be part of such a group of female athletes…to have made it this far.
Coming in Second for 5A Regionals is what these ladies accomplished Saturday night when they went up against Thomas Edison once again. Although these ladies did not win, they still came out with the stamina and pride that they've held all season long. Leaving that gym with a score of <strong>64-47. </strong> This was great fight fought and they are still eligible for STATES!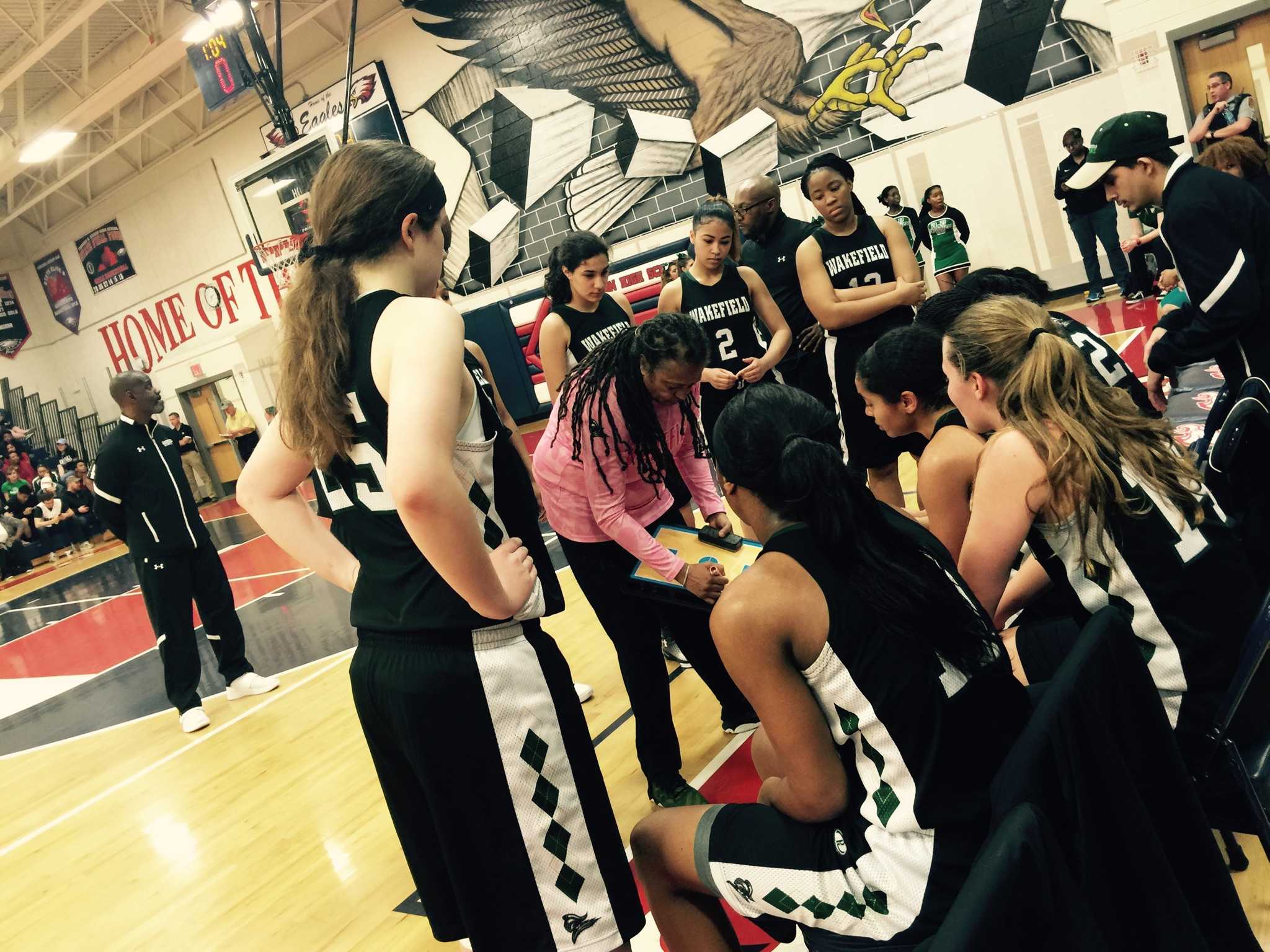 Hatcher said, "I am ecstatic because it has never been done before and I am happy I get to do this for Wakefield my last year as a warrior." Go support our girls this Thursday at Hampton University. Ms. Deskins will be handing out permission slips during all lunches in Town Hall. You will have to pay (charter bus!) and have a permission slip to go on the superfan bus.
The bus departs on Thursday, March 2nd at noon.
So #WarriorNation, Come support!