#NoDAPL Update: Campsites are Gone but Hope is Not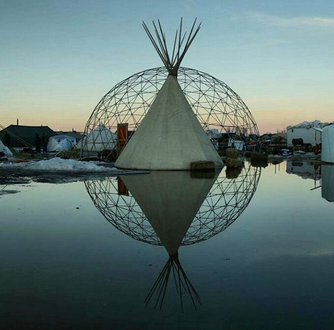 It has been two weeks and there is no further media coverage. No Twitter updates.
On February 22nd, protestors of the Dakota Access pipeline set fire to their tents and other structures that remained at their campsites as a final farewell. Fires burned for hours on and blazed through everything in its path. Not only were there fires, but authorities arrested 10 protestors. "Anyone who obstructs our ability to do cleanup will be subject to arrest," said North Dakota Governor Doug Burgum.
"We won," said Vanessa Red Bull, 54, who has spent months here. "We slowed that pipeline down months and months and months. We cost them who knows how much money. And we slowed them down." Members of the Standing Rock Sioux tribe, and their supporters, have camped out, fighting the pipeline construction which scientist have proven to be hazardous and will damage the water supply of their nearby reservation. If completed it will transport as many as 570,000 barrels of oil per day.
"You can't drink water if it has oil in it; water is the veins of the planet" said senior Caterina Montoya, who strongly supports the #NoDAPL movement.
Protestors have been clashing with police for over 11 months receiving abuse, threats, and criticism through the media. Even though the treatment of the protestors is unjust, the policy adviser (Levi Bachmeier) for Burnum said that the state "remains committed to ensuring the safety of everyone here. The last thing we want is to see anyone harmed."
"The camps will continue,"said Phyllis Young, one of the camp leaders in an interview with USA Today. "Freedom is in our DNA, and we have no choice but to continue the struggle."
It has been two weeks, and no media updates. Many hope the protestors are just regrouping and gathering for the next fight in this battle to secure what was already promised.
Leave a Comment