Six Reasons Why Russell Westbrook will be MVP
Oklahoma City Thunder Point Guard Russell Westbrook, has been a force ever since he stepped into this league. His energy on and off the court makes him one of the most feared and most respected player in the NBA.
Westbrook came into the League in 2008 and was selected 4th overall  by the Seattle SuperSonics (Thunder) alongside former teammate, Kevin Durant. In his Rookie Year Westbrook finished 4th in Rookie of the Year voting and was named to the NBA All Rookie Team.
As the years went by Russell Westbrook kept grinding, and in 2012 alongside Kevin Durant he took the Thunder to their first Finals appearance since they relocated to Oklahoma City. The Thunder did go on to lose but Westbrook's presence was felt and the world knew he was a star.
In 2013 Westbrook started to have injury issues, and the big question in the NBA was; Would Westbrook be able to stay healthy or have an injury plagued career? Many people believed that Westbrook wouldn't be the same after the injuries he suffered and that he would never be an MVP in this league.
Westbroook went on to dominate the next 2 years going to the All star game in each year and making the playoffs in the 2015-16 season, again leading his team to the Western Conference Finals
In that 2015-16 season Westbrook led the league with 18 triple doubles and he has carried that over into the 2016-17 season, as he has dominated the league in the past two years being  nothing short of unstoppable.
This season Westbrook has been nothing short of amazing. More than halfway through the season his averages are astonishing. He is averaging 31.0 ppg 10 rpg and almost 11 apg. Westbrook is averaging a triple double halfway through the season and so far nobody has been able to stop him. The last player to ever average a triple double for a season was Hall of Famer Oscar Robertson (The Big-O).
Westbrook will win MVP this year because nobody has dominated the league like Westbrook (this season) in decades. Decades. And he continues to amaze people with the plays he makes every game. No days off for Russell and he gives 110% every single night.
#WestbrookforMVP
Leave a Comment
About the Contributor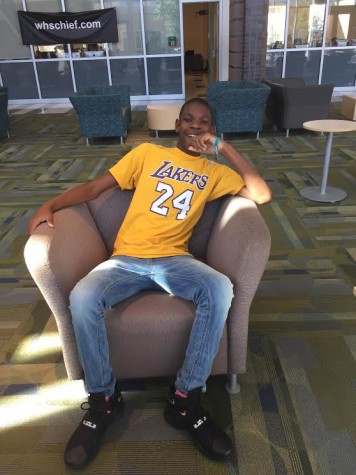 Trevon Smith '19, Staff Writer
I am Trevon Smith and this is my 2nd year in the Chieftain. I am from Washington D.C. I love the game of basketball. My favorite class is Physical Education....