Student Spotlight: Co-Captains Sergio Ferrufino-Tapia and John Ruiz
Seniors Sergio Ferrufino-Tapia and John Ruiz have been playing soccer since they were very young. Their many years of soccer, discipline, and always listening to the coach has prepared them for the season as co-captains on the varsity soccer team.
Q: What are your responsibilities as team captain?
A (Sergio) : "Be humble, be an example, be a leader, remember the team is always looking up to you"
A (John) : "Keep everyone close and help everybody out the best I can"
Q : How has soccer affected your life?
A (Sergio) : "When I was down, I always went to soccer to feel better."
A (John) : " I have a love/hate relationship with soccer, before  a game i'm not very excited to play but once it begins soccer turns into the best thing ever."
Q : How has playing soccer affected your school work?
A (Sergio) : "I've always been more focused on soccer, which is sometimes a distraction, but I know if I want to continue playing I'll have to keep my grades up"
A (John)  :  "After I get home I'm way too tired to do anything, which makes it hard to get my work done"
Q :Why do you play soccer?
A (Sergio) : "It's always been a part of my life, growing up I played soccer with friends and now I'm playing in high school and hope to maybe even play after high school."
Q : What is team chemistry like in the locker room?
A (Sergio) : "Everyone likes each other and If there is ever an argument we talk it out, this is much better than the year before because the whole team never really got along, there was always an issue and the team became separated into groups which affected the way the interacted on the field, right now my main focus this early is to get the new members of the team comfortable and ready for the season."
A (John) : "Everybody is friendly, we have great chemistry off the field but we really need to work on chemistry and communicating on the field"
Q : What is the key to team success?
A (Sergio) :  "The key to team success is communication, always put effort in at practice because the way you play in practice is the way you'll perform in a game."
A (John)  : " We need to remember to communicate and always work together"
Q : What is your favorite memory of soccer?
A (John) : "That's easy, my sophomore year on the Junior varsity team, we were down in the first half 3-0 against TC, we fought hard and shortened the difference to 2-3, with 3 minutes left I scored the tying goal to make it 3-3 and then we ended up winning the game in the final minutes"
Q : How do you feel about the new team and how they're going to perform?
A (Sergio) : "I think we'll do well, the team is better than last year, we have a good chance at going far in the conference, and we want to beat Washington Lee!"
A (John)  : "Once we get everything together I think we can pull off a lot of wins and go far in the conference, we just need to get the momentum to turn the season around and start winning games"
The boys have had a rough start to the season losing their first few games. The team has begun the season with a 0-1-5 record, but the co-captains plan on fixing team mistakes and finishing the season strong.
Come support your Warriors in their home game Friday against Lee High School! #WarriorNation
Leave a Comment
About the Contributor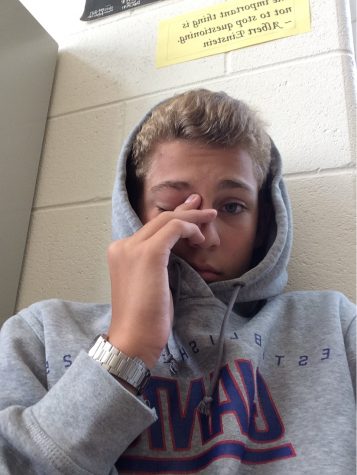 Cason Poythress '20, Staff Writer
Cason is a freshman and in his first year as a staff writer for the Wakefield Chieftain. Cason Plays football for the freshman football team and also plays...