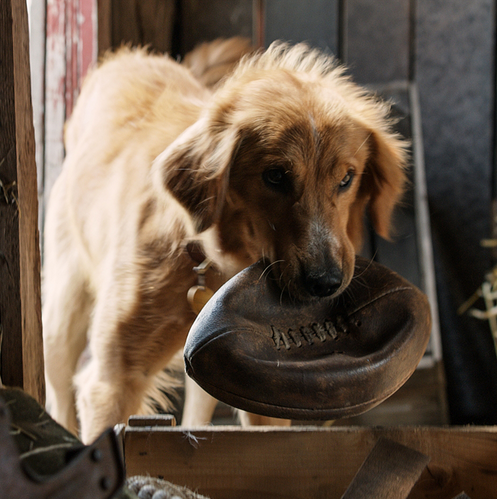 One Week Left in Theaters: A Dog's Purpose is Worth It
March 16, 2017
If you haven't seen this movie, make yourself go…right now. It looks to still be in theaters until next Wednesday, so see it on the big screen while you can. All this sappy puppy love can't be fully experienced unless it is on the big screen.
Worth The Watch?
At the end of January, A Dog's Purpose made it's big debut in the theaters! The day it came out people were rushing to theaters to see it. The story was initially a book written by W. Bruce Cameron in 2010. Everyone is in love with the movie, it will make you cry, laugh and is incredibly heart warming. If you haven't seen it yet, there is one week left to see it on the big screen.
Last weekend, I watched A Dog's Purpose. I can definitely say it's the most tear jerking movie you will ever see. It really tugs at the heart strings! Not only was this movie a happy feel good movie, but it also shows you the tougher side of a dog's life.
It is the journey of a loving dog trying to figure out what his purpose is, the meaning of his existence. He is reincarnated into many more lives as a pup over the course of 50 years! In his last life he notices that there is something familiar about his owner. He soon realizes that his new owner is the same owner from his first life. The movie ends with him living a happy life with his long lost owner Ethan.
At first I was skeptical because the trailers made it seem more like a children's movie, but there was definitely more depth to it than that. It showed you the happy parts of a dog's life like running in fields, chasing after a ball, but it also shows you that some dogs spend their whole life being tied up to a tree in a backyard. It's the sad truth that not enough people know.
This movie also made me realize how much a dog can impact someone's life. There were a couple of people in the movie who were very lonely, but when they got a dog, their life completely changed for the better.
Overall, this movie was amazing and I would definitely see it again. I highly recommend this movie to all the dog lovers out there.
Go see it in a theatre near you!
Leave a Comment
Worth the Read?
I read A Dog's Purpose, by Bruce W. Cameron, for the first time a number of years ago when the book first came out and upon hearing that there was a movie being made based on the book I knew I had to go back and re-read it.
It is definitely better the second time around, maybe because I am older now and I understand it a little better, or maybe my experiences allow me to relate more. Whatever the reason may be, I found myself just as caught up in Bailey's  life as I had been the first time (even though he has many lives and names, I am going to call him Bailey to make life easier).
Cameron does an incredible job of giving you just enough dialogue between the humans in the story so that you can understand what is going on with the people, and their struggles and how Bailey helps them, not just Bailey's efforts to find what his purpose in life is.
Bailey's running commentary ranges between laugh-out-loud funny, heartwarming, and heartbreakingly sad. I have to admit that I shed a tear every time he dies, even though that I know he comes back.
I also love how Bailey does so many different jobs over the course of his many lives, but he always seems to come back to the same basic one, which is to love and protect the humans who love him.
This, for lack of a better word, purpose, is so simple yet it captures the essence of every dog that I have ever loved, whether they be fictional, or flesh and blood like my own two dogs.
The best thing about A Dog's Purpose is that it reminds you why dogs are called man's best friend.
Leave a Comment