Rebel Without a Cause To Be Performed In Our New Theater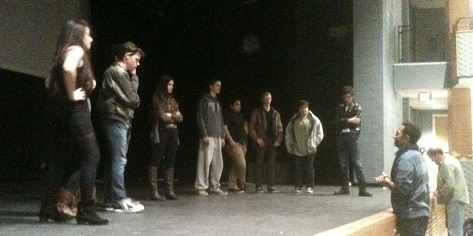 What are you doing this weekend? The answer should be going to see Rebel Without a Cause! Mr. Gillespie explains, "The show is an adaptation of the classic 50's movie that starred James Dean and Natalie Wood. Teenager Jim Stark (Will Westray '14) finds himself in another town trying to fit in and stay out of trouble."  He meets a girl named Judy (Lena Mobin '14) and is confronted by her boyfriend, Buzz (Max Carruth '15) through out the play.
Mobin is grateful to be a part of the cast, "it's great to be surrounded by so many creative people". She continues on to talk about her role as Judy. "You can really see her character develop as the play progresses."
Westray thinks it's a great experience, "It can be stressful with the amount of responsibility I have in the show, and balancing school, but it is manageable and an awesome experience."
The Stage Manager, Emily Hambridge '14 confirms that the tech crew has been working hard building the set and getting costumes prepared; this is the first big play on the new stage in the new auditorium.   Tickets are $8 for students and $10 for adults at the door. You can see Rebel Without a Cause the next two weekends: January 17th , 18th, 24th, and 25th.