Johnny Rockets: Out Of This World Milkshakes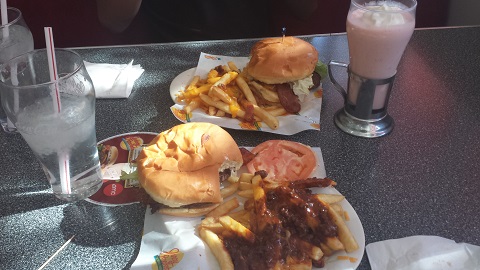 Sitting in a silver booth eating one of their delicious burger, with fries and a milkshake, listening to upbeat music from the overhead speakers, makes Johnny Rockets the perfect place to hang out with friends on a Friday night. It feels like a 50's diner with all of the chrome, posters, and nostalgic artifacts. As a first timer, my experience was awesome. Even though the restaurant was busy, our waiter was nice and quick. We sat in a booth and ordered bacon cheeseburgers. My friend (who is a Johnny Rockets' veteran) gave me the best advice ever: get a Johnny Rockets milkshake, and chili cheese fries too. The food came in record time. The Bacon cheeseburger was amazingly good. Amazingly good. The cheese was melted just right and the burger was cooked all the way, just like I like it. Most important of all, the bacon was crispy. It was such a big burger that I was full in matter of seconds. However, the chili cheese fries weren't everything I thought they would be. They were a little soggy, and the chili didn't taste like chili that I am used to eating. Johnny Rockets redeemed themselves with the milkshake. It will definitely bring me back to the yard. It was very smooth; the combination of fresh bananas, strawberries, and whipped cream was just amazing, very satisfying. It even came in a cute old style glass with a metal handle.
I would recommend this restaurant to everyone. Families, couples, teenagers, everyone. It seems like a happy place with a sweet history. I went to the Johnny Rocket's blog after visiting the restaurant to learn more about it, and grew to like the restaurant even more! The owner, Ronn Teitelbaum, "founded the concept on the belief that everyone deserves a place where they can escape from today's complicated world and experience the uncomplicated goodness of classic America". The restaurant is not only meant as an escape from the world, it is also for embracing love. A real love story between a chef and a server occurred in 2006. They fell in love while working at a Johnny Rockets. After dating for a few years, Andrew and Brandy got engaged in June of 2011. The couple love each other and Johnny Rockets so much that they took their engagement photo in a Johnny Rockets restaurant. Brandy shared, "Andrew and I loved working at Johnny Rockets – when we first opened there was a line of people out the door waiting to get in. The dancing and fun music created a great atmosphere, not just for us, but for the customers as well." The "best man" and maid-of-honor also worked at Johnny Rockets with them. The love story made me want to go back almost immediately. So, head to your neighborhood Johnny Rockets, order an astounding milkshake, and let in the love this Friday night.