Homework, How Much Does It Really Help?
Homework has always been a well-known component of school, but is it really necessary? Is the problem the homework, or the amount of homework? Shannon Brady, '15 said "they just give us too much homework; we can't be a part of clubs, sports, have a job and then come home to 3 hours of homework." Many students feel this way. Some might say that it is the student's choice to do all these extracurricular activities and have a job. They must find a balance, now, to be prepared for adult life.
Ms. Norber, Sociology and U.S VA History teacher, raises the question, "is it that students have three hours of homework, or do they make it three hours between one hour of Netflix breaks?" It's a very important aspect of homework to think about. What if students didn't look at their phones or watch TV; would they feel the pressure if they stopped taking three hours, and completed work in a focused hour and half?
Ms. Norber continued to say that homework plays a minimal role in her classroom. Although she finds homework a useful tool to extend classroom learning, she doesn't believe that it should consume students, "homework is one measure, but not the only one". Although students wish that all teachers viewed homework this way, that is certainly not the case.
Stephanie Torrico '16 mentioned that sometimes she enjoys getting homework. It makes her understand the different things she learns and prepares her for future exams, midterms, and SOL's. She stated, "it's okay to have a decent amount of homework, but definitely not an over excessive amount that we can't keep up in each class." She also mentioned having a good record of turning homework in because it boosts up the overall grade in class.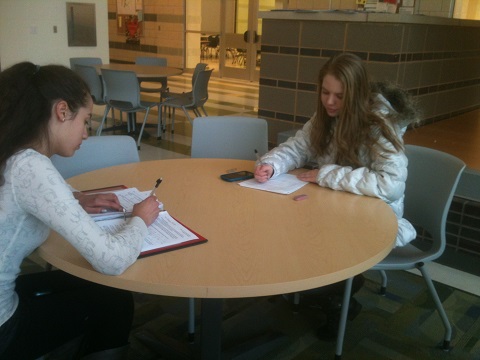 College has progressively gotten a lot harder to get into from the times our parents tried to get in and now. In 1970, only about 52% of graduates went on to college. College wasn't honestly really necessary for most jobs back then; it just gave an edge. To get a decent job now, most have to at least have a Bachelor's degree. College competition has become insane and candidates must do any little thing to make themselves seem like the better candidate. Doing homework can keep grades higher, and students more engaged in the subject being taught. Homework is a necessary rite of passage for every high school student.