Outdoor Track Crushes it at Conference 13: Regional Bound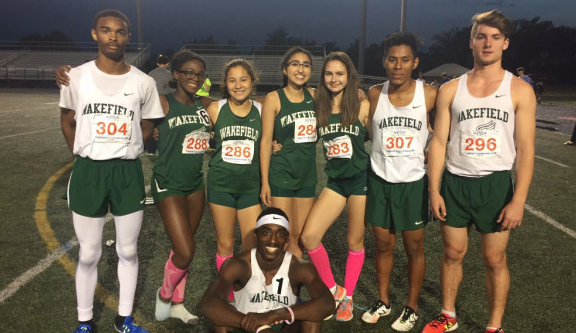 Outdoor track is sending 13 people to regionals (plus alternates) and 3 relay teams. For the first time ever, BOTH Girls and Boys are sending 4×400 relay teams. Also going are individual runners, a high jumper, and the Boys 4×800 team.
The Girls haven't even had a relay team in the past four years, so to make it to Regionals is quite a feat. Girls 4×400 runners were: Sydney Coldren, Yasmeen El Machtani Idrissi, Faith Achugamon, and Nashae Beazer.  It was an exciting race. They came in 4th place and qualified for Regionals! Here is a clip if you weren't there for the Conference Championships at Edison:
Freshman Sydney Coldren is the first leg and said, "I am going to get out strong and give us a good lead" at the regional race.  "I am proud of my relay team. As the anchor, my job is to bring us back. If we are losing, I have to close the gap. We were in 6th place when I got the baton. I had to get us to 4th place to qualify for regionals. That's the hardest I have ever had to push myself" said junior Cierra Jenkins.
The Boys also had a stunning 4×400 victory at Conference. Boys 4×400 runners were: Louis Delcore, Xavier Brown, Taheer Pierce, and Xavier Taylor. This race was even louder! The Boys came in 1st place and secured their spot at the Regional race! Here is a clip if you weren't there for the Conference Championships at Edison:
Junior, captain of the Boys Sprint team, and 4×400 anchor Xavier Taylor said, "It is not an easy job being the anchor. If you have the lead, you have to keep that lead, keep your opponents off your tail. While running I think about all the doubters who said I wasn't fast, losing last year's meets, and the coaches telling me to dig deep. I also think about Wakefield. I want to put Wakefield on the map on the track scene." Xavier Taylor has speed running through his veins. "It is pretty awesome to have the fastest family in school history. My cousin Cierra holds a records, my other cousin Nahdeya holds a record, and I am close to breaking the 100, 200, or 400 meter records at regionals."
Senior Mark Miles is the high jumper and only field participant for the Regional berth. He got second place at Conference and said, "I am going to touch the sky at Regionals."
Regionals is at UVA in the next two weeks. Good Luck and give it all you got!