12 Tips for Rising 12th Graders
Graduation is just a little over a week away for current seniors! But before I go, I want to pass on some of the key lessons I've learned this year to the rising 12th graders.
Here are 12 tips to help you survive 12th grade:
1.) If you're planning to go to college, get those applications taken care of ASAP. Make a CommonApp account and fill it out, and apply Early Action so that you get your letter by winter break.
2.) Talk to your counselor about after high school plans. I cannot count how many times I popped into Ms. Covarrubias's office with a question about deadlines, college expectations, and how to submit the college application materials.
3.) Figure out your senior project sooner rather than later. Start it over the summer if you can! Senior project easily gets out of control and becomes a stressor if you don't stay on top of it.
4.) Make friends with the senior project advisor, Ms. Labella. She saved my life during senior project. Her door is almost always open and she's more than happy to answer any questions students have about senior project.
5.) Keep a calendar of all your important deadlines. This includes college applications, scholarship due dates, everything regarding your senior project, and more.
6.) Take manageable classes. Pile up on AP classes your junior year to bump your GPA, but then take regular level classes to stabilize it and keep your stress levels low.
7.) Senioritis is real. I'll admit, I didn't believe it was a real thing. But after spring break, coming to school and staying focused was a struggle. Do not let senioritis get the best of you. Be prepared and make sure you get everything done.
8.) Pick up a new elective! Senior year is when you have free space for the electives you've been wanting to take. After getting all my language and PE credits, I was able to finally take photography and join the newspaper, and I loved it.
9.) Do your work. This one sounds self explanatory, but when you're a senior, you have way more freedom than ever before. You can leave during lunch and your senior project period, so it becomes easy to fall into not wanting to come to school, so make sure you do your work and stay on track.
10.) Try new things! It's your last chance! Try out for the play! Start a new sport! Join a new club!
11.) Don't set too many expectations. Seniors tend to be idolized and senior year is supposed to be the best year ever, but don't get sucked into that. Don't stress about making it the best year ever.
12.) Above all, have fun! It's your senior year! You've made it through the worst and now you can enjoy the last two semesters of high school.
Good luck, everyone! I wish you an amazing senior year!
Leave a Comment
About the Contributor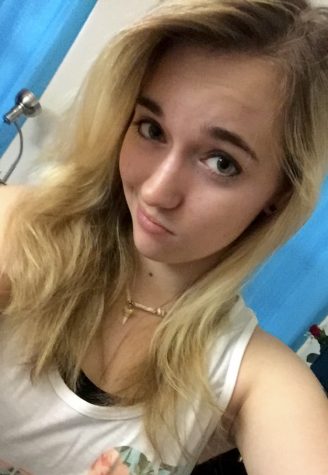 Kate Wright '17, Staff Writer
Kate Wright is a senior at Wakefield; this is her first year on The Chieftain. Some of Kate's hobbies include reading, writing fiction, listening to music,...