Art Out Loud: Creativity Abounds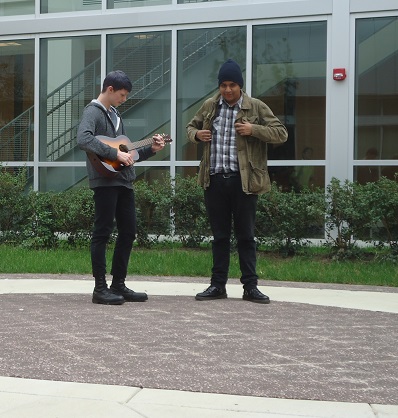 Art Out Loud is a program at Wakefield that showcases the many talents of Wakefield students. Everything from rap, dancing, singing and poetry have graced the Wakefield stage thanks to the Art Out Loud club.
Art Out Loud is spearheaded by two members of the Wakefield faculty, Ms. O'Brien-Holt and Mr. Bingham.  Originally they wanted to form a club that was only poetry, but after that, a student approached one of them wanting to have a prose faction of the club, so they added prose; another student wanted to rap, so they added rap, and after that it snowballed into the all-encompassing talent show that we all know and love.
Art Out Loud had only one performance this year but will have a second performance this Friday, Valentine's day. I spoke to Ramiro Pena '15, the host of the Art Out Loud performances:
Wakefield Chieftain: For people who aren't familiar with AOL, how did the first performance go?
Ramiro Pena: Funny you should ask… I thought it was going to be a train wreck, but it turned out much better than expected. I honestly thought I was gonna muck something up or that the acts would bore the audience, but, to my great surprise, the show went swimmingly. I always had a quip to say when something went wrong, like the mic giving too much feedback or when something else didn't go according to plan which made the show seem more relaxed. That's what it is. It's not this rigid thing that people have been rehearsing for day and night. People can come and perform whatever they actually want. There's no hokey themes like "heritage". The only theme is creativity and expressing yourself, which teenagers should do more.
WC: Do you have anything special planned for the upcoming show going on Feb 14 during Warriors' period?
RP: I will be doing something, I'm not quite sure what it'll be yet but it will be something funny or weird or both. There WILL be, however, singing, dancing and maybe some parkour. Our resident singer, Gabby Teran '14 will definitely be singing a song and maybe have some piano accompaniment. Everything else is secret; I'm not entirely at liberty to say.
WC: What are your duties as host?
RP: Well, obviously I introduce the acts that are performing, make little jokes here and there and I usually perform the closing skit which is usually just me being weird…
WC: What did you do for the closing skit in the first show?
RP: I did a little tribute to one of my heroes, Andy Kaufman. I did his song "I Trusted You" which consists of me saying the words "I trusted you" over and over to the sound of my buddy Todd's guitar playing. The joke is that I would gradually start screaming the words until they were unintelligible. I was a little unhappy with how the performance went though, because the audience loved it instead of being tired of it after the first couple times I repeat the words. That's a shame. I heard that someone may have uploaded it to a site which is something that I absolutely despise. If people liked it that much that they had to record it and upload it without my consent, then it's fine. No such thing as bad press.
WC: You seem to be really bothered by this.
RP: Yeah, it really makes me mad that someone would go ahead and do that. I think its a little disrespectful doing that.  I feel like they misinterpreted what I did as something that is to be taken seriously, and uploaded it as something for people to ridicule. A lot of performers are really shy about what they do and the fact that someone would want to ridicule any of them, but namely me, is just reprehensible. I even had some hecklers when I was performing my song. If they want to be heard they can sign up and join us on stage, the audience is meant to be quiet and enjoy the show and not shout things out.
WC: Some performers are shy?
RP: Yeah, and that's really sad. They shouldn't have to worry about what people say, but it still bothers them. I'm willing to do anything up there and it's hard for me to understand the people who are reluctant to be onstage. I love being onstage! One girl was all set to go onstage and perform a song in Korean, but she ended up telling us that she got a cold and didn't think it was best for her to sing. Something about that story made me think that she was too reluctant to go up and sing. I would've done it if i had the FLU! I would've totally done it if i had a life threatening disease! That's not the only time either… There have been other people who are wonderful performers but are too shy and they really shouldn't be. There's nothing to be afraid of. My advice for anyone who is thinking about performing: you will always be your worst critic, hecklers are pathetic and uncreative and they shouldn't bother you, so just go up there and have fun!
You can see Ramiro fill his host duties soon! The next performance was scheduled for today, and will be rescheduled shortly. It will most likely be held during Warriors' period in the auditorium. Please come and support the young artists of Wakefield!