Gymnastics Meets For a Meet In Mount Vernon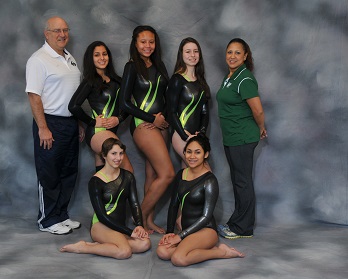 Chalk dust flies through the air as gymnasts fiercely compete in the second gymnastics meet of the season. The event took place in Mount Vernon, but distance was not issue as the Wakefield Gymnastics team was eager to represent. Last month people launched themselves through the air, swung between bars, and landed almost perfectly on blue mats; the gymnastics team left the audience in awe.
All meets start with a warm up "rotation" where every school practices an event for 10 minutes, they switch until they have practiced all of them. Although the meet got off to a rocky start because the girls missed their rotation on the beam, it picked up quickly. Leah Corts '15 remarked, "There is no way I'm competing a cold routine". Luckily, the Wakefield gymnasts were allowed to join the W-L gymnasts on their beam rotation.
After practice rotations, the gymnasts lined up in six columns as the national anthem played. J.E.B. Stuart, Washington – Lee, Falls Church, Edison, Yorktown, and Mount Vernon were all present at the event. After the rallying cry of "Go Warriors!" echoed through the spacious gym, Wakefield's first rotation on beam began.
Jasmine Latney '15 was up first on beam for Wakefield, preforming her whole routine while only falling twice. Leah Corts '15 pulled off a near perfect performance, earning a 9.0 on beam. She couldn't contain the adrenaline rush she had, and barely was able to sit down after her round.
Next up for the team was floor. Layla Amarir '14competed first with a beautiful routine. Marika Mortimer-Lotke '17 competed next with a routine that included music from "The Muppets" which blared through the gym. It was an interesting routine that had a unique twist to it. Only two gymnasts from Wakefield competed in the floor event.
After an exhausting competition that featured the girl's talents on beam and floor, it was time for Vault. Jasmine Latney '15 was first up and energetically completed a straddle over. Up next, Marika Mortimer-Lotke '17 kept things interesting by doing half on, half off. Leah Corts '15 was up third and last for Wakefield, she completed a front handspring and a half on half off for her two passes.
The Wakefield Gymnastics team was ready to finish strong in the last event, bars. Leah Corts '15 was the first up for Wakefield, she performed her routine very well. Marika Mortimer-Lotke '17 was up next, hesitating only slightly but finish off carefully. The two girls were the only two to compete in this division.
An awards ceremony took place marking the end of the meet. The gymnasts were recognized both individually and as a team. Wakefield placed 5th in all around competition, their highest finish in years. Leah Corts '15 earned 3rd place on beam and 3rd place on vault out of everyone at the meet.
As a person who doesn't watch gymnastic competitions often (apart from passing the summer Olympics) it was really a memorable event to watch. Personally, as someone who prefers more up-tempo sports like hockey and lacrosse, it got very dull between events. But the down time is the most anticipated time for both the coaches and gymnasts; it is the time when judges can assess and score all the events. The combination of excitement, teamwork, abundance of powdered chalk, and gymnasts doing endless flips and handstands, undeniably had a particular appeal distinct to the sport of gymnastics.