Our Town…Hall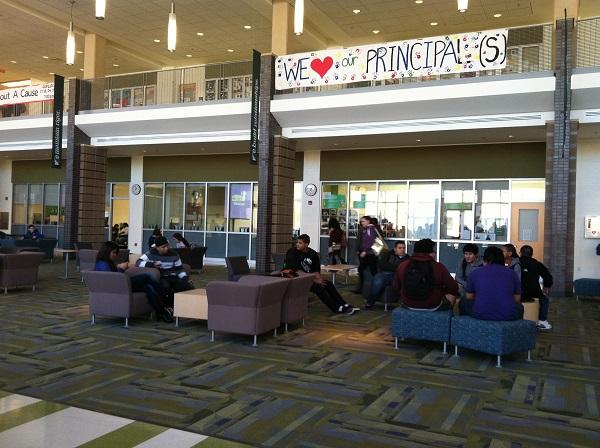 Town Hall, a place where students connect, also known as the heart and foundation of the new building. Located in the mid-center of the school, Town Hall is the main attraction that brings the Wakefield community together. It's pretty hard to miss it. From the soft fabric couches to the vibrant colors shown in each square of carpet; it brings warmth and welcome on a day-to-day basis. Alvaro Sejas '14 says, "Town Hall is a great way to meet new friends and just relax." Emily Reyes '16 shares her thoughts, "the moment the bell rings, I walk down the stairs to greet my friends and the first thing I notice is the bright sun blinding me through the wall of glass windows." From the moment the bell rings, to the loud tenor of Harry rushing kids to class, students always find time to chit chat their way around the commotion.
There are some complaints. Raul Parra '15 mentioned "I was really dissatisfied with the announcement that stated 'NO FOOD IN THE TOWN HALL' I mean they could have just made the floors hardwood rather than carpet if this was the case." Celeste Moron '15 added on by saying, "How am I supposed to make a phone call in the main part of the building when my calls don't even go fully through? The wifi should be adjusted now that we're half way through the school year." The super comfy seats make up for the drawbacks. Many visitors admire the town hall as well.
You can do your homework there, relax with friends, or just read a book. The rugs give it a roomier feel as well. Overall, it is a great place to relax and ease off some stress. The town hall is also one of the main attractions that everyone blabbers about, and it makes us unique; we stand out from other high schools in the area. Props to the people who came up with this brilliant idea!