Swim and Dive Senior Night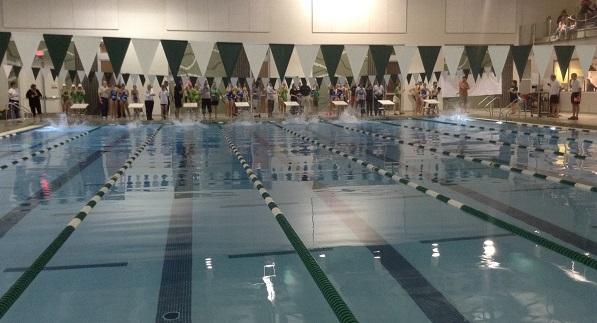 Before walking into the pool, one can feel the combination of heat, chlorine, and far too many bodies streaming through the glass double doors. This combination does provided the spectators with escape from the below freezing temperatures outside. Taking advantage of the design of the new pool, visitors are able to view the 8-lane pool and just as large warm-up pool, complete with 2 springy diving boards from high above in the spectator stands. Another useful addition is the uninterrupted view of the score board, which shows the precise time of each of the athletes. The new pool is a big hit with the Arlington Community.
The Swim and Dive team celebrated Senior Night at the end of January. There was an excitement and anticipation in the air because 13 seniors were being honored – the most in many years. Each of these seniors deserve the recognition; they put in hard work each day at practice, and every Friday night at the weekly swim meets. On senior night they faced their cross-town rivals, Washington-Lee. Although W-L's size may be imposing, Wakefield's swim team chants could be heard from miles away.
The meet started in the usual manner, with both teams warming up at separate times.
The tension rose as teams got pumped for the start of the meet and the relays got underway. Halfway through the meet, the Senior Night celebrations started. Looking around, there were streamers covering all the rails and walls, and posters for each of the swimmers. Each senior was announced one-by-one, and their college of choice, favorite swim team moment, and other memories were shared with the crowd. The swimmers then hugged each of their coaches in turn and took their place on their diving block. When all the seniors were done being announced, they jumped into the water in unison, shirt and all. It was a bittersweet night for these seniors, many who have spent multiple years on the team, reminiscing on the fun times and challenging practices. The team competed in conference finals two weeks ago, signaling the official end of their high school swim career.