Cross Country: Is It Just Running?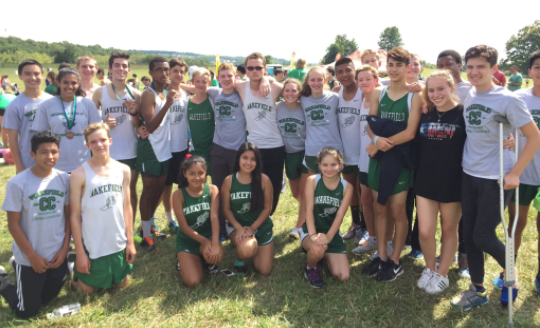 "Bangg!!" The gun sounds and a stampede of runners race through grass, mud, and dirt. As they make their way to a finish line 5,000 meters away.  Anyone who has run Cross Country knows the sport is anything but boring. The competition is tough and unlike most sports there is beautiful scenery to look at during the race.
Most cross country runners use the season as conditioning for the indoor and outdoor track & field season. Sprinters are also sometimes interested in running cross country to help with 400 or 200 meter relay race. Cross country helps to build stamina. "Running cross country is gonna help me in the 3rd lap of the 1 mile and also the last lap of the 800m during the track season."  said Amanuel Haileselassie.
The low attendance rate of Wakefield fans does not bother the cross country runners. They understand that it is not the most interesting to watch. Also there is work involved cheering on the team. Fans usually stand and have to constantly move to different locations to cheer for only a few seconds. A bunch of Cross Country runners want fans coming out to track and field meets during the winter and spring season. When Kareena Stowers was asked what she thought of the low attendence rate she said, "The team is enough for me."
There is a reason  cross country and track are no cut sports because the high intensity level shows people's true colors. "It's definitely a grind; you gotta log in a lot of miles; you gotta push yourself; you feel uncomfortable a lot." says Jackson Ringger. Cross Country makes your body so fatigued that it no longer becomes a physical challenge but mental when you have to battle with yourself on the decision to stop, slow down, or go faster.
Yesterday, October 26th was the National Distract meet for Wakefield Cross Country located at Burke Lake. This meet is highly competitive due to the fact only the top 15 runners advance to regionals, and from there states. From Wakefield freshman Kareena Stowers and senior Amanuel Haileselassie made it to Regionals. 
Congratulate them when you see them in the halls.