The New York Truck Attack: Trump's Response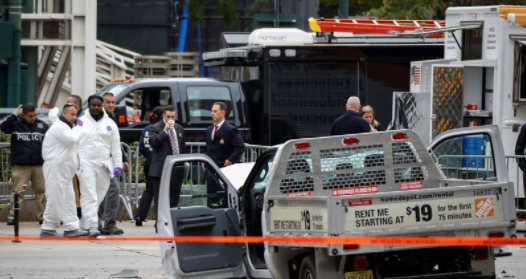 On Tuesday, October 31st at approximately 3 pm a man drove a truck rented from Home Depot into the bike path of the West street beside Hudson river in lower Manhattan, He continued on the path hitting bicyclists and pedestrians for many blocks, not too long until the vehicle hit a school bus.
The suspect emerged from the truck holding two guns, he was shot by a police officer near the scene as soon as he came out, unfortunately it was too late as he left behind him at least 8 people killed and 12 people injured including a couple of children that were on the school bus.
President Donald Trump tweeted his outrage about this attack saying: 'In NYC, looks like another attack by a very sick and deranged person. Law enforcement is following this closely. NOT IN THE U.S.A.!" The words he used are the same as the ones he used to describe the man who committed the Las Vegas shooting; he also declared that the suspect in the NYC attack should get the death penalty. "He killed 8 people, badly injured 12. SHOULD GET DEATH PENALTY!"
Comments like this are even more tragic. America has lived through massive tragedies. America is now learning how to live with a President that doesn't have a demeanor befitting a president. If he is going to use Twitter as his platform, he needs to add in more diplomacy and not react like a typical Twitter troll.
Leave a Comment