Football Power Rankings: Where Does Your Team Stack Up?
This NFL season has had a lot of injuries and intrigue, but by Week 10 we've been able to get a pretty good idea of how good each of the teams are. Without any further ado, these are your 2017 mid(ish)-season Power Rankings
1. Philadelphia Eagles:
The Eagles have been able to win thanks to their ferocious defense and MVP contender Carson Wentz. Philly will have to find replacements for three injured starters, linebacker Jordan Hicks, tackle Jason Peters and cornerback Ronald Darby. They are key pieces on the Eagles, and other players need to step up to fill the hole left by their absence. That said, considering the injuries, Philly is having an amazing season and might be able to make a deep run in the playoffs.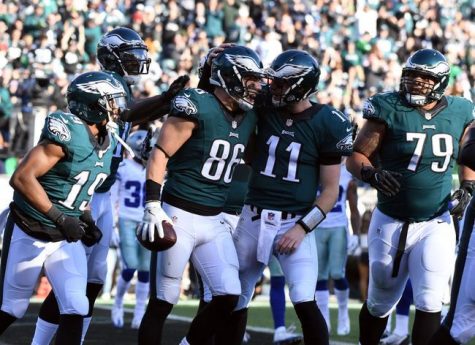 2. New England Patriots:
The offensive genius of Bill Belichick and the execution of star quarterback Tom Brady has led to an offense that is first in passing yards in the country. The Patriots only flaw is their defense, that is LAST in the league in yards allowed per game. Bill Belichick is the best coach in the league and knows how to utilize less than perfect personnel. This team will continue to be competitive as long as Tom Brady and Rob Gronkowski continue to produce.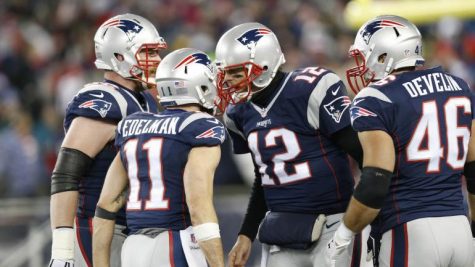 3. New Orleans Saints:
A surprise this far up the list, they have been able to dominate a somewhat lackluster NFC South. Alvin Kamara has been a welcome surprise at running back. He is averaging 6.0 yards per carry and 9.2 yards per catch. This offense is one of the best in football and will continue to put up big numbers against a weak remaining schedule. They ran roughshod over the Bills last Sunday, scoring 6 touchdowns on the ground.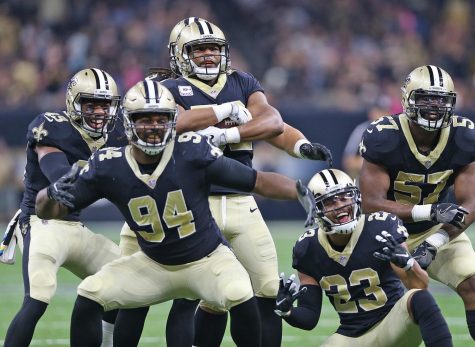 4. Los Angeles Rams:
The Rams are back. They have a solid young quarterback in Jared Goff. Todd Gurley is blossoming into one of the best running backs in the league. Their defense is good and has been able to hold opponents under 20 points six times. This team will get better down the stretch with a relatively easy schedule, except for a matchup against the Eagles.
5. Minnesota Vikings:
Case Keenum has more then done his job and launched the Vikings into first place in the NFC North. However, the main reason for the success of this team is their defense. They are fourth in the league in total yards allowed and second in points allowed. They look to lock up the weak NFC North with a couple more wins.
6. Pittsburgh Steelers:
Le'Veon Bell is a constant in this offense and is the main reason for the Steelers' success this season.  Ben Roethlisberger is old, and if the Steelers want to win a Super Bowl in the next 2 years, they need him to return to his old form. The Martavis Bryant controversy hurt the team and he and Antonio Brown need to work together to improve the offense, which ranks outside the top 10 in total yards, despite having the Killer B's. This team has the pieces to be a Super Bowl team and even beat the Patriots if they can lock up home field advantage. The Steelers are one of 5 teams that haven't scored 30 points in a game this season, and the other teams have a combined 8-28 record.
7. Kansas City Chiefs:
This team might have the best overall team on the list. The only thing that holds this team back is the defense, which is 30th in the league in total yards. The defense has also given up the third most points. The offense is certainly a powerhouse with MVP candidate Alex Smith at the helm. The post season does not look promising with the head coach, Andy Reid, having an 11-12 record in the postseason. However, a balanced offensive combination of Kareem Hunt and Smith may be able to lead the Chiefs on a deep run.
8. Jacksonville Jaguars:
A pleasant surprise in the top ten is Jacksonville. They have one of the best, if not the best, defense in the entire NFL. Their pass defense is the best in the league and their run defense is solid. Jalen Ramsey has proven himself as one of the best young corners around the NFL. Blake Bortles is still learning, but is definitely gifted enough to become a franchise quarterback. They are battling it out with the Titans for first place in the AFC South.
9. Tennessee Titans:
The Titans have a very good franchise quarterback in Marcus Mariota, when he is not injured. Their running game is led by ex-Cowboy DeMarco Murray. Both the defense and offense are in the bottom half of the league in yards. This team has dropped a lot of games that they should have won, but they did defeat the their division rivals, the Jaguars, on the road.
10. Dallas Cowboys:
The Dak Prescott led Cowboys are a solid team. With Ezekiel Elliott and Dez Bryant both active this team can be great. Their defense is mediocre at best ranking 14th in points allowed. Their offensive line is always good and will continue to be good as long as they can stay healthy. The only problem is that the Cowboys still have to play the Eagles twice, and at least once without Elliott.
11. Seattle Seahawks:
The Seahawks will be contenders for a long time with Russell Wilson at quarterback. Wilson has put the offense on his back and even led a comeback drive against the Redskins in Week 9. The defense is one of the best in the league when they are all healthy. Richard Sherman is out for the year and Earl Thomas is very beat up. The offensive line is just bad. This team is probably not going to get any better and will have to fight for a playoff spot.
12. Carolina Panthers:
With a big win over the Miami Dolphins on Monday Night Football, the Panthers announced that they are still a contender without Kelvin Benjamin. Cam Newton is always reliable and can extend plays with his plays. Christian McCaffrey is a capable running back. This defense is best in the country in yards allowed. The Panthers can still contend for a wild card spot, but will have little chance of overtaking the Saints in the NFC South.
13. Washington Redskins:
The Redskins are a good team that has been too injured to play at their potential. Josh Norman, Trent Williams, and Jordan Reed are all beat up and lots of other key cogs are also hurt. One thing this team has going for it is that they have already played the Eagles twice and are 4-5. This team will have to win all their remaining division matchups to try and contend for a wild card.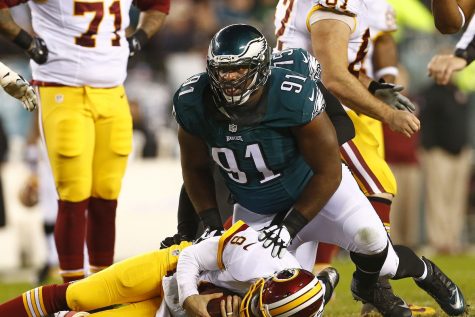 14. Atlanta Falcons:
The Falcons played very well against the Cowboys last Sunday, although the Cowboys were missing two key cogs in their offense. The win felt especially nice to Atlanta's owner, Arthur Blank, after his public feud with Cowboys' owner Jerry Jones. For the Falcons to make the playoffs and be a threat, they must get the offense that has disappeared since Kyle Shanahan left to make a resurgence.
15. Buffalo Bills:
This offense is pretty decent with a run game built around a strong running game with LeSean McCoy. Their defense is solid with a strong pass rush. Tyrod Taylor is not a star, but is getting the job done. They are an average team that has had a very easy schedule so far.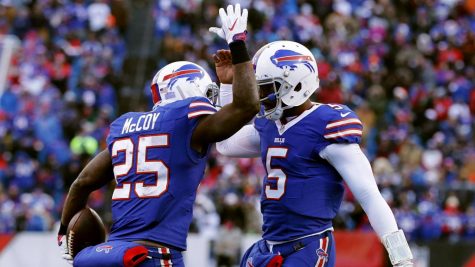 16. Oakland (Soon to be Vegas) Raiders:
Derek Carr is back and better than ever, and the Raiders will be trying to land a wild card berth. Their offense is good, but was definitely hurt by the Marshawn Lynch suspension. This defense is mediocre and is lead by perennial Pro-Bowler Khalil Mack. This team needs to hold off the surging Chargers and catch up to the Chiefs for a chance at the playoffs.
17. Detroit Lions:
The Lions have been inconsistent on both sides of the ball this year. As they're paying him $50 million this season, they expect better production from Matthew Stafford than what they've gotten so far. He earns Dak Prescott's salary for the entire season in 10 game minutes.
18. Green Bay Packers:
Brett Hundley kept the season from completely falling apart by pulling out a win against the Bears, but the opportunity still exists for the Packers to tank and get a high draft choice. If they decide not to go that route, as it seems they have, Hundley must keep them in playoff contention so that Aaron Rodgers can play Superman again and save them in the playoffs. He is available to return from his collarbone injury as early as Week 15 and the Packers must pray that he is ready to go by then.
19. Baltimore Ravens:
The Ravens still have a chance to salvage their season, but it's going to be rough because of injuries to key players and a total lack of offensive firepower. Their offensive line hasn't been able to protect Joe Flacco since Marshall Yanda went down in Week 2, and Flacco has thrown more interceptions than touchdowns. They get Danny Woodhead back from a hamstring injury, and hopefully than can provide a boost for their mediocre offense.
20. Arizona Cardinals:
Two of their top players are down for most of the season due to injury, and now Bruce Arians is relying on Drew Stanton and an old Adrian Peterson to carry the Cardinals offense. One of the most impressive stats of the season is that Patrick Peterson, their standout cornerback, has 0 interceptions. This may not seem like a good thing, but what it really means is that he's been so good that quarterbacks won't throw in his direction. That is one of the few bright spots for this sad season, with David Johnson on Injured Reserve and another year of Larry Fitzgerald's brilliant career wasted.
21. Los Angeles Chargers:
The Chargers have lost 5 games by 8 points or less this season. They keep dropping close games because of an unimpressive defense and an inconsistent offense led by a banged up Melvin Gordon and an aging Philip Rivers. They tossed away another close game last week against the Jaguars, but may have found a diamond in the rough in Austin Ekeler.
22. Denver Broncos:
What hasn't gone wrong for the Broncos this season? Trevor Siemian has decided that it's better to throw to opposing players rather than his teammates, and the defense that was expected to keep them in games is in disarray. It may be time to give Paxton Lynch a shot, and see if the 2016 first round pick can show something to the coaching staff that passed him over for Siemian after training camp.
23. Cincinnati Bengals:
So far, the most entertaining thing about the Bengals season has been watching AJ Green lose his temper and punch Jalen Ramsey in the head. The funniest thing about it? He didn't get suspended, while Mike Evans, who decked Marshon Lattimore with a blindside hit that was far less egregious was. When Green hasn't been going crazy, the Bengals have been consistently bad on their way to a 3-6 record so far.
24. Houston Texans:
The Texans started out with one major question mark on an otherwise talented team, and luckily for them it was answered decisively. Deshaun Watson quickly proved that he is an NFL quarterback, and may be a star in the making. Unfortunately, he tore his ACL during a practice and will be out for the rest of the season. With Watson, JJ Watt, and Whitney Mercilus out for the season, the offense and defense are atrocious. However, if they can all return at full capacity next season, there will be a lot of reasons to hope in Houston. In the meantime, the city can stick to celebrating the Astros win.
25. Miami Dolphins:
The offense is a mess, the defense is a mess, and the most-used player on the team is the punter, Matt Haack. This is a recipe for disaster, and the Dolphins' season is careening off the rails after a 4-2 start. The Jay Ajayi trade left them with very few offensive weapons, their defense is hurting, and a lot of young talent that's not ready for prime time is starting.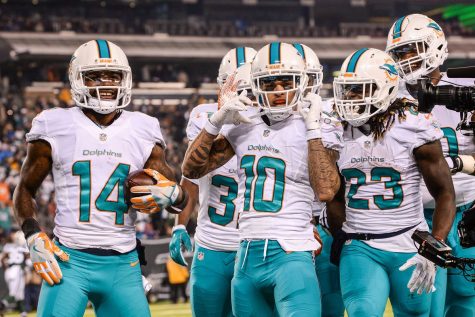 26. New York Jets:
The Jets have managed to fail at everything they try this season, first failing to tank properly by winning 3 out of their first 5 games, and later by losing once they decide to try to have a successful season. The game against the Buccaneers without Jameis Winston was a must win for the Jets, and they threw it away. For Jets fans, it's back to following what draft choice the Jets will get, rather than hoping for a postseason appearance.
27. Chicago Bears:
The rest of the Bears season is about Mitchell Trubisky's progress. If he can show improvement and potential, this painful season will be worth it. Otherwise, the only positive takeaway will be the defense's improvement. With a corps of wide receivers that isn't fit for a college team, Trubisky has very few options to throw to. One of his most reliable targets this season has been his rookie running back, Tarik Cohen.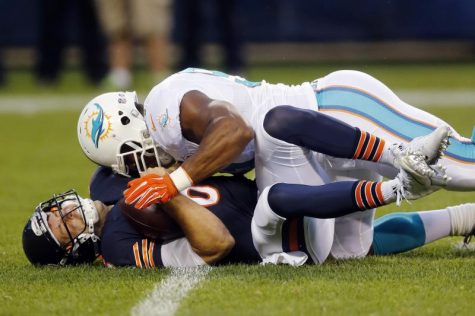 28. Tampa Buccaneers:
Jameis Winston will be out for at least a couple of weeks, and after watching this season go down the drain, it may be best to shut him down completely to protect him and keep him healthy for next season. A promising season has fallen to pieces, and there's no one in Tampa that can put them back together. A saying that Dodger fans are well versed in will apply to the Bucs, "Wait 'til next year…"
29. Indianapolis Colts:
With Andrew Luck officially done for the season, depression is officially setting in for Colts fans. Jacoby Brissett has done a good job on a team with a complete lack of skill players beyond TY Hilton, but their defense and offensive line have been a disaster. The Colts are setting themselves up for a high pick in the draft, but in the meantime it's best to cover your eyes when watching this team.
30. San Francisco 49ers:
The 49ers finally pulled out a win last Sunday against the Giants, one of the few teams more inept than them. The key to what remains of their season is to get Jimmy Garoppolo as many snaps as possible, and see how good he can be for them. Then, immediately lock him up with an long-term extension. The 49ers didn't trade that much for him for a half-season rental.
31. New York Giants:
A season with high expectations has bottomed out and fallen into chaos and dysfunction. The group of wide receivers has been decimated by injuries, and the defense hasn't played at the same level as they did last season, when they were one of the top units in the NFL. Ben McAdoo has lost the support of the clubhouse, and after losing to one of the two winless teams this season, the 49ers, it has become clear that big changes are coming to the Giants this offseason.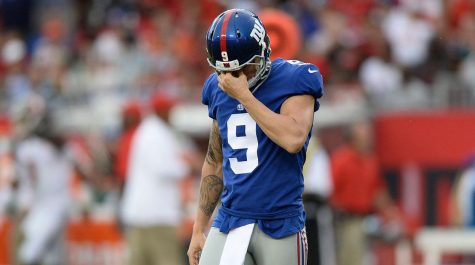 32. Cleveland Browns:
The Browns over the last two seasons have played some of the worst football seen since the Lions 0-16 season in 2008. What makes the Browns worse, is that their losing has carried over from one season to the next. The Browns seem to have an aversion to winning, and are so depressing to watch that people have called their stadium, among other things, a "factory of sadness."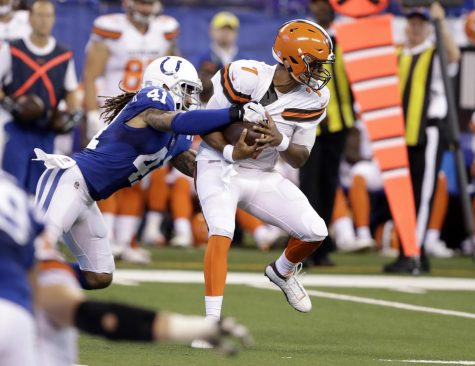 Our pick for the Superbowl? Eagles vs. Patriots…It doesn't matter who plays, the Eagles will win.
Leave a Comment
About the Contributors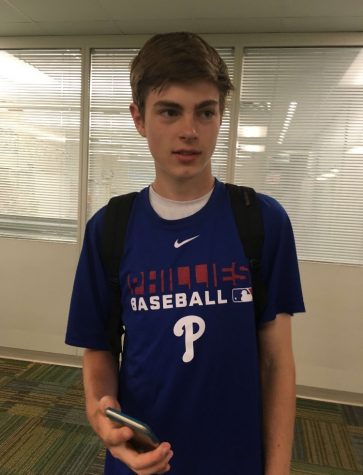 Sean Iredell '21, Staff Writer
Sean is a freshman at Wakefield High School. He plays on the baseball team. This is his first year in Journalism. In his free time, he likes to read and...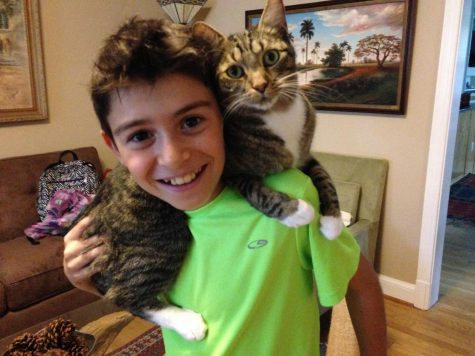 Josh Rosenberg '21, Staff Writer
My name is Josh Rosenberg, and I'm a freshman doing my first year of Journalism. I love cats, the Washington Nationals, and traveling. I'm looking forward...