Spread the Word to End the Word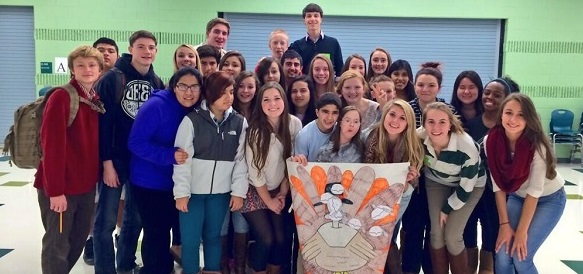 The "R word" – retard(ed) – is hurtful, offensive, and wrong. It should not be used by anyone, no matter the purpose. Best Buddies, a club to help students with intellectual and developmental disabilities (IDD) feel more accepted into our school community, is a strong promoter of this cause. The club forms friendships between a student with an IDD and a "peer buddy". At large, the club hosts monthly activities like ice skating, bowling, making cookies, etc. This month, students came together to make trail mix baggies for the homeless.
Although the club may help students have fun together, it also strives for a greater purpose – the hope that one day everyone will see people with IDD's for what they really are – just like everyone else. The first step in this lofty goal is to eliminate the use of the R-word. Language affects attitudes and attitudes affect actions. Nobody deserves to feel excluded or inferior, which is just what this word does.
The Wakefield Best Buddies Club is taking many actions to stop the use of the R-word in our high school. March 5th is National Spread the Word to End the Word Day. Best Buddies will have a banner in Town Hall, where students are welcomed to sign their name, pledging to never use the R-word again. Students will also represent Wakefield at Claremont and Gunston, informing the students of the harmful effects of this word.
Stop by and give your pledge – every person counts on this search for justice. It takes only a second but each pledge makes a world of difference.
To learn more about this noble cause, visit the following website:  http://www.r-word.org/