Where To Park?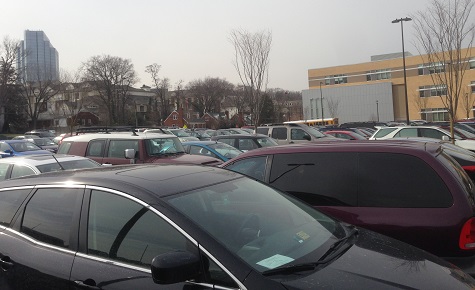 As most drivers know, parking at Wakefield High School is not a walk in the park. The problem with figuring out where the busses drop off the students is now solved, but not the parking problem. There is a teacher parking lot right out front of the main entrance, but not all teachers fit in there. Some staff members and students are not a big fan of the system in place. Ms. Shetzich is a teacher here that never gets to park in the lot. She usually parks on Chesterfield, either on the side by the old Wakefield or on the side towards Wendy's.
The parking issue has caused some frustration here for students as well. Malorie Tanner '14 normally parks in the student parking lot; after 8am, parking becomes difficult to find there. When she can't find a spot she goes around to the street. The farthest she has parked is a block into Frederick St. The parking problem has caused her to be late to class. Parking is getting increasingly more difficult now that residents only parking signs are being put up on the street.
To be clear, this parking situation is just temporary. The school is still very new and there is still construction being done. Mr. Herring is the Senior Project Manager for APS, and head of this project. He passed this information along to the Chieftain, "There are approximately 112 parking spaces located on the public streets adjacent to school property without time or zone restrictions.  Of these spaces, 36 are located on South George Mason Drive, 42 are on South Dinwiddie Street and 34 spaces are on South Chesterfield Drive.  On-site parking consists of six surface parking lots totaling approximately 238 spaces including 11 handicap spaces and one van accessible space." The demolition is projected to be completed during the month of March. The proposed redeveloped site will contain 261 on-site surface parking spaces.  A primary surface lot should be accessed from South Dinwiddie with approximately 235 spaces. The athletic fields will also be a new project once the demolition is completed.
Before you know it, our old school will be completely gone and replaced with enough parking and beautiful fields to match our beautiful school.
Hang on, Wakefield, parking spaces are coming!