An Upperclassman's Guide to Basketball Rivalry Games
Basketball season is in full swing, and that means…RIVALRY GAMES! Our basketball teams are coming off two of the best seasons in program history.
The Girls' team went to the state tournament for the first time in history, and the Boys' team also returned to the state tournament for their third appearance. Both teams graduated starters from last year, but the underclassmen are ready to step up and take their teams back to States!
Basketball always means high energy games with hyped super fans. Here are some games you won't want to miss…
Wakefield (Boys and Girls) vs TC Williams – A long time Arlington-Alexandria rivalry, this game should be a heated one. Both schools always bring big student sections and it's always a  great time for the fans. This rivalry game goes back decades, but Wakefield hasn't been a formidable opponent until recently. The girls play @ TC on Friday, December 1st. The guys play  @ Wakefield on Tuesday, December 19th.
Wakefield Boys' Basketball vs Marshall – Both teams graduated key players last year, meaning this year will be yet another memorable game! This game is typically a battle of the superfans. Who has the better cheering section? Obviously, we do…if we show up. They will play @ Wakefield on January 2nd and @ Marshall on January 26th.
Wakefield Girls' Basketball vs Edison – Guaranteed to be a good game, these two teams met four times last year and the stands were packed every time. Anyone who knows anything about Wakefield girls basketball knows that they want to beat Edison, and they want to beat them bad. They play @ Edison on January 16th and @ Wakefield on February 9th (SENIOR NIGHT: DOUBLE-HEADER.)
Of course, in the play offs the Boys have their eyes on Potomac because of how they did them dirty two years ago with three technicals before the game even started. You don't bench Coach Bentley and not start a rivalry. The Girls always have their eye on Atlee because they knocked them out of the playoffs two years ago. The boasting afterwards was a bit too much for a rivalry not to form.
Be sure to go check out these awesome rivalries! Cheer on your Wakefield Warriors as they fight for another victory!
Leave a Comment
About the Contributor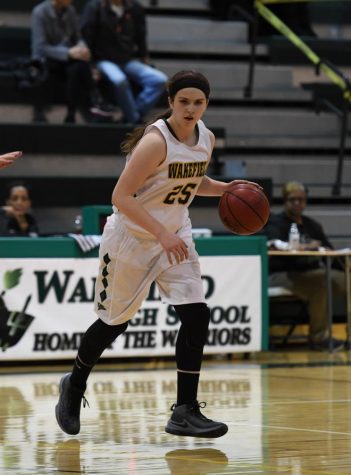 Hannah Foley '19, Staff Writer
Hi, my name is Hannah. I am a senior and this is my second year as a staff writer on The Chieftain. I'm also the captain of the basketball team and a student...