Brawls, Benching, and Philadelphia's Brilliance: This Week's Key NFL Storylines
Almost every week the NFL is chock-full with big plays and big stories. This past week, Week 12, was no exception. Here are the biggest storylines from the past week's action.
Broncos and Raiders Brawl
Sunday afternoon's Broncos-Raiders game saw things get heated. During the 1st quarter, on only the Raider's second possession of the game wide receiver Michael Crabtree was blocking Broncos cornerback Aqib Talib on a run play. The two already have a fiery history dating back to last season's game, when Talib went over to Crabtree on the sideline, pulled his chain, and broke it. Talib provided reasoning for his action, stating that the chain had been annoying him all season, and if he saw it, he had to break it.
This year's incident once again, involved a chain. As Crabtree blocked Talib, the play quickly ended but he didn't stop. Crabtree continued to push Talib out of bounds towards the Broncos bench area. The two exchanged shoves and ended up throwing punches. Once again, Talib ripped Crabtree's necklace off as a fight broke out.
After the game, Michael Crabtree stated that he taped his chain to himself before the game as precaution. The two players were both ejected from the game and have both been issued one-game suspensions. Moral of the story, if you're a receiver facing Aqib Talib and the Bronco defense, make sure to avoid wearing a chain.
You can view the full play here.
Eli Manning Benched
Another huge story this week has been the benching of two-time Super Bowl Champion, New York Giants quarterback Eli Manning. The Giants were anticipated to be one of this season's best teams, but after key injuries to much of their wide-recieving core, a weak running game, and the absence of their starting center Weston Richburg, they have stumbled to a horrible 2-9 start. Looking to find any kind of spark to end the season, head coach Ben McAdoo announced Tuesday that Manning will be benched and replaced by younger quarterbacks Geno Smith and Davis Webb for the indefinite future.
The decision to bench Eli has been met by large waves of criticism from fans. Manning by no means was having an MVP caliber season, but still put up a solid 2,411 yards passing, 14 touchdowns, and 7 interceptions with a weak supporting cast. Former NFL players expressed frustration too, with former Giants linebacker Carl Banks tweeting "The guy who gave you EVERYTHING for better or worse NEVER missing a game and THIS how it ends?? Not #10! He deserves better" and hall of fame quarterback Kurt Warner saying "He's never done anything but show character and do the right thing. … Shame on the Giants.".
As Eli Manning, age 36, is an older NFL quarterback it's uncertain what the future holds. After 14-seasons he has still been going strong. Manning's options include retirement and relocation to another team through trade. However still possible he can once again eventually retain the role of starting Giants quarterback as Geno Smith and Davis Webb are inexperienced and unproven. The situation is undoubtedly rocky in New York.
Carson Wentz Continues to Lead Philadelphia's Brilliant Season
The Philadelphia Eagles once again had another dominant outing this past Sunday against the Chicago Bears. MVP candidate Carson Wentz threw for 227 yards and 3 touchdowns as the Eagles plugged away to a 31-3 victory.
The Eagles are now 10-1 with the best record in the NFL. Their offense has been extremely strong, ranking 3rd overall in total yards per game. This season has been a fantastic turnaround, as the Eagles finished 4th in the NFC East last year and have been one of the league's most disappointing teams for a while now. The Eagles haven't won a playoff game since 2008 and have never won the Super Bowl, but this is looking more and more like the year to do it.
With 5 weeks left until the playoffs, NFL action is heating up!
View Comments (1)
About the Contributor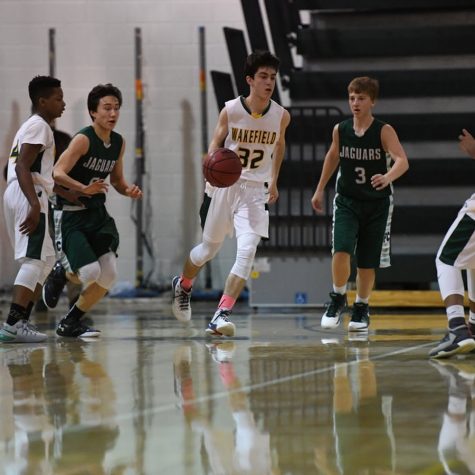 Jackson Ringger '19, Staff Writer
Hi, I'm Jackson and I'm a junior here at Wakefield. I run cross country and track, and I also play the piano. I like basketball, football, and baseball....