Top 5 MLB Free Agents of the 2017 Offseason
The regular season is over, the postseason is over, and Game 5 of the World Series finally ended, but that means that a whole new type of suspense and excitement will ramp up in the MLB. It's MLB Hot Stove season, where anyone can be traded and anyone can get $100 million! Well… maybe not Bartolo Colon.
Shohei Otani:

He won't command a big contract, in fact, Otani won't get more than $5 million a year, but he has the most intriguing free agency in baseball. This 23 year old native of Japan has played in the Japanese pro league for his entire career, but his skill set has MLB scouts drooling. He can hit 102 mph with his fastball, and is a great hitter as well. Otani has drawn comparisons to one of the greatest players of all time, Babe Ruth. If Otani had waited until he reached 25 years old to join an MLB team, he could have gotten a massive contract, well over $100 million. By choosing to enter the MLB now, he has shown that he won't be tempted by money, especially since most teams can't offer significantly more than others. He has said that he wants to join a team that will allow him to hit and pitch, and has already narrowed his list down to 7 teams, most on the West Coast.
         Projected Team: Los Angeles Angels  
Yu Darvish:

One of the most interesting questions of the offseason revolves around Darvish. How will his two disastrous World Series starts affect his contract? He is still far and away the best starter on the market, and plenty of teams can use rotation help. During the 2017 season, he struck out 209 batters and may have the largest arsenal of pitches in baseball. It is unknown exactly how many pitches he can throw, but according to Darvish himself he can throw six pitches, 7 if you count his modified curveball. The Cubs have a great lineup but a bad rotation, and will make a hard push to get Darvish.
         Projected Team: Chicago Cubs
JD Martinez:

Martinez struggled early in his career, leading to him getting cut by the Astros. However, he was picked up by the Tigers on a minor league deal and hit .300/.361/.551 for them. He was dealt to the Diamondbacks at the trade deadline, and boosted his stock with a scorching second half. He hit 45 home runs this season with a juiced ball, but before you chalk this down as a fluke, keep in mind that he hit a higher amount of balls on the sweet spot in 2017 than in the previous seasons. The D-Backs would love to keep him, but they don't have the payroll space to do so. The Red Sox have the financial flexibility to pick him up, and are desperate for power after coming in the bottom 5 teams in home runs last season.
         Projected Team: Boston Red Sox
Eric Hosmer:

Hosmer's free agency will be an interesting indicator of the general trends in the MLB. Advanced statistics, particularly on defense, hate him, but old fashioned stats like Batting Average love him and he passes the eye test. He was nominated for a Gold Glove in 2017 despite his low grade given to him by advanced statistics. His contract will set the tone for lots of future players, and the Royals will make a big push to keep the face of their franchise.
        Projected Team: Kansas City Royals
Jake Arrieta:

The 2015 Cy Young Winner has slowed down since then, but he still had a solid year, especially in the second half, when he had a 2.26 ERA. He's turns 32 in March, and lost almost 2 mph on his fastball, but he's in excellent shape and will provide value to whatever teams signs him. It seems likely that he will leave the Cubs, who picked him up when his stock was at an all time low in Baltimore, and sign what is likely to be a 4 year deal elsewhere. There are a lot of teams that are in the mix to sign him, and I see no clear favorite in the mix.
         Projected Team: Phillies
This MLB offseason is going to be packed with trades and big pickups, so make sure to visit The Chieftain for updates throughout the winter.
Leave a Comment
About the Contributor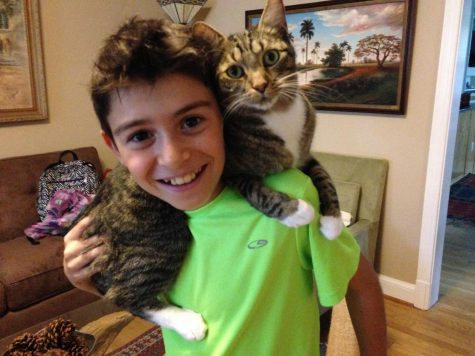 Josh Rosenberg '21, Staff Writer
My name is Josh Rosenberg, and I'm a freshman doing my first year of Journalism. I love cats, the Washington Nationals, and traveling. I'm looking forward...