Latino Youth Conference Photo Contest Winners
On December 1, three of our Wakefield Warriors swept the competition at the Latino Youth Conference in the Photography contest. Jhenifer Lazarte-Jimenez came in first, Carlos Lemus came in second, and Ana Sofia Uro De Leon got an honorable mention.
Jhenifer said this of the conference itself, "It was a very empowering conference for kids from different backgrounds… it shows you that you aren't alone, there are people who have done what you want to do," said Lazarte-Jimenez. Her picture was a dancer doing a traditional dance from Bolivia called, Tinku.
The theme this year was "Mi Tierra/My Land". The contest is an option contest for Ms. Davidson's class, one of the few she offers a year. She said, "To some people, I said, 'you have really good stuff, I think you should enter' and then four of my students said they really wanted to enter. I didn't realize until much later that we had won first, second, and honorable mention… the top 3 prizes, which is phenomenal. The results couldn't be any better."
It really meant a lot to these winers; it wasn't just a Wakefield win, it was a win for the whole county. "It was very cool to be recognized because sometimes I feel like I'm too white for the Latino community but too Latino for the white community, so I'm always stuck in between as a Mexican-American, so to be recognized for my work and to say, 'hey,  I like my culture, I embrace my culture, and I can take pictures of my culture!' was really cool," said Ana Sofia. Her picture was of a flower in her grandmother's garden. It was entitled Abuela's Garden.
Ms. Davidson said, "It was really great for them not just to represent the Latino community, but also to represent our Latino student artists."
It goes to show, if you love what you are creating, others will see that in your work.
About the Writer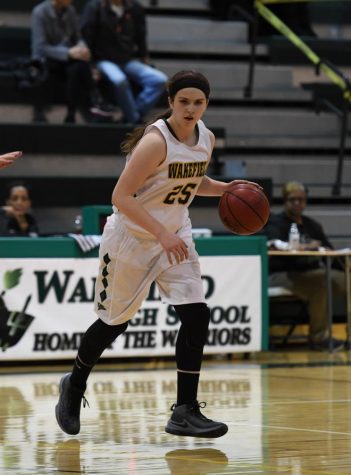 Hannah Foley '19, Staff Writer
Hi, my name is Hannah. I am a senior and this is my second year as a staff writer on The Chieftain. I'm also the captain of the basketball team and a student...