Girls Varsity Basketball Strong Season Heading into Holiday Tournament
The Girls' Varsity is off to a great start to the season! They have won 4 of their first 5 games, some nail bitters, some blowouts. Let's recap the games so far…
In the opening game of the season, the Warrior women came out with a decisive 45-32 win. Although they started out a little slow, 15-18 at halftime, the Warriors came out in the 3rd quarter and went on a 20-6 run. Freshman Taylor Thompson hit 3 three-pointers at crucial moments to swing momentum in the second half. She said, "I was nervous but I knew I had to put aside my nervousness for the good of the team. Everyone started off with some jitters but once we settled down we played the basketball we knew we could play." This win was a promising outlook for the rest of the season.
A tough game against Alexandria rival, TC Williams, the Warriors fell 73 – 32. While no one likes losing, this game helped the ladies realize what they needed to work on in order to kick butt the rest of the season. "The game really built our character and integrity as a team. Although we lost, we learned how to grind it out, regardless of the score" said senior captain Jami Tham. Even when the score was not in their favor, the Warriors fought hard. Sophomore Jayela Lopez scored 10 points and pulled 7 rebounds, most of those coming in the second half, and pumped up her team with her determined perseverance. "I came into the game knowing how good of a team TC was and honestly, I was kind of scared. But it took a whole first half of the game for me to realize that I wasn't just gonna lay down and take what they were giving us. I knew that at my 100% I could be unstoppable and I just channeled all my emotions, positive and negative, into my game. I wasn't just playing to the scoreboard, I was playing every possession at that point, and I was determined to not let us go easily."
The last game before heading into conference play was against Mt. Vernon, where the Warriors grinded out a win, 47 – 33.  Tham led the team, scoring 25 points and grabbing 14 rebounds. She said, "During the game, I knew I just needed to relax and play my game. I trusted my teammates to execute and play tough defense." The team went 11-14 from the free throw line, realizing the importance of free throw shooting as it gave them a cushion for the end of the game.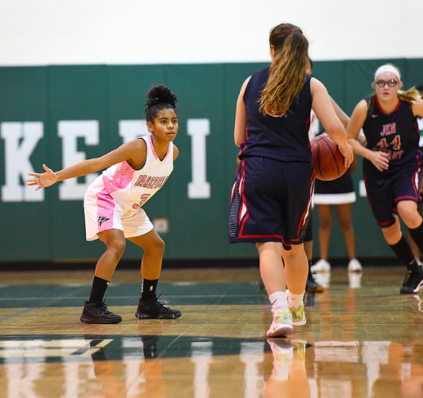 A 47-46 win versus Thomas Jefferson gave the Warrior ladies their first conference win, but it wasn't easy. They were down the whole game, only coming back to tie it with a buzzer beater 3-pointer from junior and captain Hannah Foley. "When coach called the play in the timeout we all knew we needed a 3 to send us to overtime. The play was originally run for Taylor, who is one of our best shooters, but they were overplaying her and so I got the ball back and I knew I had to shoot it. The gym got so quiet while the ball was up and then I heard someone in the stands go, 'Oh, that's in!' It was great, but the game wasn't over, just the momentum had shifted." In overtime, Foley score 4 more points as the team played lockdown defense. Sophmore Olivia Abound said, "Coach always preaches to us how important conference games are and so we knew we had to win this one. None of us wanted to walk out of there with a loss." The rematch of Wakefield vs TJ will be at home on January 19 and is sure to be another great game.
The most recent game was against Justice High School (formally J.E.B. Stuart): A big-time comeback game featuring key shots from freshman Nevaeh Wallace, Foley, and Tham. Down by 3 with 40 seconds left, Foley hit a big 3-pointer to tie the game. "As soon as Hannah scored, I told Taylor that we needed to trap her (the point guard of the opposing team) and put a lot of pressure on her. So we did that and she just couldn't handle it. Taylor took the ball and passed it to me and I scored" said Wallace. This was the first lead Wakefield had all game, and one they weren't going to give up. The ladies continued to play great team defense and made some key free throws to put the game away. The Warriors will play at Justice HS on January 23, come out and support!
The Girls' Varsity team will be playing in the Park View Christmas tournament next week in Sterling. Then, they will be back in action in 2018 playing @Marshall on January 2nd and @Falls Church on January 5th.
Come out and cheer on your Warrior women!
Leave a Comment