George Long Holiday Hoops: Don't Miss Out on This Extra-Ordinary Tournament
Every year Wakefield Boy's Varsity Basketball participates in a tournament over winter break at Wakefield's own gym. They compete with teams from other areas and show that Wakefield can compete at a higher level. It is not just that though, it is also to honor one of Arlington's icons. The teams compete against each other in great games, but always know what they're playing for, it's about more than just the games.
George "Go Go" Long was an Arlington icon, especially in Nauck Valley.  He suffered from ALS, which is a disease that slowly robs the body of it's ability to walk, speak, swallow , and breathe. This sickness is also known as Lou Gehrig's disease. George Long was an Arlington hero. Many festivals, parties, and other events are held in honor of him to keep him around since he has passed away.
The Boys have started off the season strong with a record of 5-2.  The Warriors starting off with multiple wins is a good sign that they will do very well in the tournament.
Wakefield competed against TC Williams on Tuesday this week, TC is one of Wakefield's rival schools and the fans are always going back and forth and making the game a lot more interesting. This year's game did not disappoint. Junior and guard Christopher Warner said, "it was good to get that win at home in front of our fans; it was a competitive game up until the second half, then we had to show what the Warriors are about." After defeating TC 72-50, Wakefield is trying to carry the momentum over into the tournament and win all three games.
In 2015, they won the tournament crushing every team in their path. Then in 2016, the boys followed up with another 1st place win in the tournament. Last year, the Warriors won both of their first games then lost the championship game finishing the tournament with a record of 2-1. With many new players added to the team's roster, it can be anyone's tournament win. Based on the record, we have a solid chance of keeping the trophy home, where it belongs.
This tournament will take place December 26th – December 28th. Wakefield plays: 12/26, 12/27, and 12/28 at 6:15pm. This will be a fun set of games to watch since the boys don't normally play against these teams. You won't want to miss it! #WarriorNation
CORRECTION: An earlier version of this article had the Wednesday and Thursday times incorrect. Please go to warriorswhsathletics.com for up to date sports information.
View Comments (3)
About the Contributor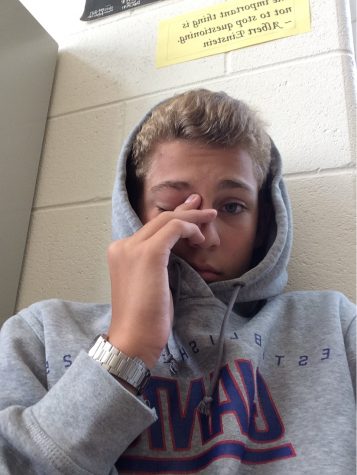 Cason Poythress '20, Staff Writer
Cason is a freshman and in his first year as a staff writer for the Wakefield Chieftain. Cason Plays football for the freshman football team and also plays...