Asian Club Cook-Off: An Annual Tradition
On December 12th, the Asian Club hosted their infamous, annual Cook-Off. Five Asian countries, and one wild card, squared off to see which nation had the better food: Vietnam, Bangladesh, China, South Korea, India, and wildcard Ethiopia. These countries were represented by groups of students from the Asian Club. The winner was decided by Wakefield staff. Only one can win. 
One of the sponsors, Ms. Hsu said of hosting the event, "With all the bad that's currently happening in the world, something like this for high school student is needed, food brings people together, and if I have an opportunity to bring people together, I'll take it in a heartbeat."
Vietnam
Head Chef is Conrad Burns

Dish is "Viet Pork-Ribs"     
China
Head Chef is Hongkai Lin

Dish is Kung Pao Chicken
Bangladesh
Head Chef is Tasnim Ahmed

Dish is Chicken Korma
South Korea
Head Chef is Uyen Nawyen

Dish is Kimbap
India
Head Chef is Jie Na

Dish is Tiki Masala
Ethiopia
Head Chef is Dagimawe Sisay (AKA MJ Slam)

Dish is Tibs
As soon as the teams got started, you could feel the tenseness in the air over the kitchens. Everyone was rushing and setting up the plates, ingredients, and themselves. The audience side was a different story; everyone was calm and relaxed, eating the snacks laid out and playing board games which the Asian Club crew had set up earlier. The Chieftain had exclusive access to the event. We went around and asked the question everyone was thinking, Who will win?
Junior Leah Alemayehu said, "I think Ethiopia will win." She may be a tad biased being that she is Ethiopian. Sophomore Nomingegee Bayarsaikhan said, "Chinese or Korean food is well known and is always good." The most non-politician answer I got was ironically from an Asian Club officer, junior Justyn Chiles said: "It's honestly anyone's game, but my personal fave is the Kimbap (Team Korea)."
As the clock wound down, and the judges started to roll in, you could feel the pressure on the cooks. We started counting down, and the pressure increased.
"3, 2, 1….Chefs hands up!" Ms. Hsu yelled.
Each team came up, gave their dish to the judges, and explained it to them. The judges silently wrote down scores and gave nothing away by their facial expressions. "Third place is…Bangladesh!" The audience applauded. "Second place is…India!" The audience applauded a little more.
Now, what all of us have been waiting for, "First place is…….China!" Team China cheered as they got the most applause. Head Chef Hongkai Lin won a huge bag filled with Asian candies. Even though only one team won, the whole room was filled with laughter and congratulations. Ms.Hsu said, "Kudos to all of the head chefs, 2 months of planning, good organization, creativity, and execution is because of them."
This annual tradition of the Asian Club that has been going on for 8 years now, and is one of the best events at Wakefield. If you ask us, you've got to go at least once.
If you want to join Asian club, Ms.Hsu said: " Our club is an inclusive place, and anyone interested learning about Asian cultures should join!"
Leave a Comment
About the Contributor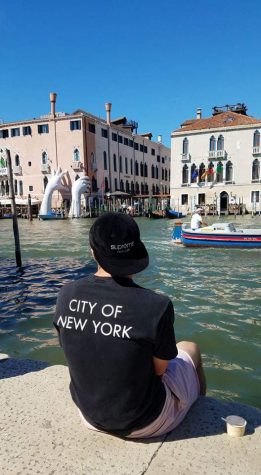 Ian Moran '19, Staff Writer
Hi my name is Ian Moran and this is my second year at The Chieftain. I'm from Munich, Germany but moved here when I was 3. I like writing sports articles...