Varsity Girls Basketball: Trials Lead to Strong Play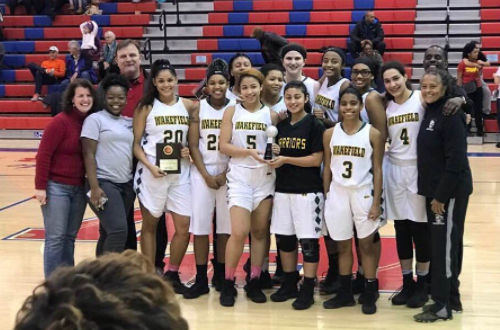 Your Lady Warriors have had a pretty great start to the season; with a record of 7-5 our girls have had a pretty good  start! The seven wins are against W.T. Woodson, Mt Vernon, and two against Stuart and TJ.
Our lady warriors have also for the second consecutive year won the Park View Classic Tournament!
Senior Jami Tham has this to say about the streak, "On the court I just tell myself to stay calm and focused, I am one of the people who has to support my teammates when things aren't necessarily going our way, so I try to stay positive and encouraging on the court."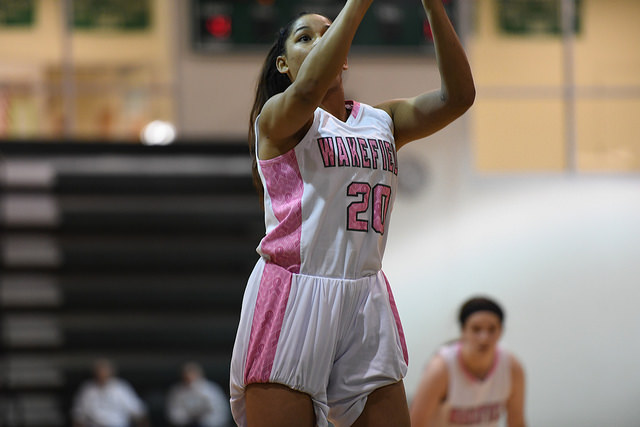 As it being her last year on the team, we asked what she is going to miss the most after the season's over; " Once the season is over, I'm going to miss my family: my coaches, my managers, the fans , and most importantly, my teammates."
How does she think her final season is going? "So far the season is going really well, word on the street was that this was going to be our down season, but this was just our rebuilding phase, we are still a tough, strong force , don't sleep on us." Jami in the 47-33 Wakefield win against Mount Vernon, got 25 points and had and  impressive 50% shooting percentage!
But Jami isn't pulling all the weight by herself! Junior Hannah Foley has stepped up and has been playing exceptionally well. Hannah went off in the 57-42 loss to Marshall; even though it didn't go in these player's favor, Hannah balled out and led the team with 17 points, including three huge three pointers! We asked Hannah about the the Marshall game and she said, "Marshall was really tough, and we don't have as an experienced team as them, but we fought really hard, and I have confidence that we can either make it close or beat them the next time we play them."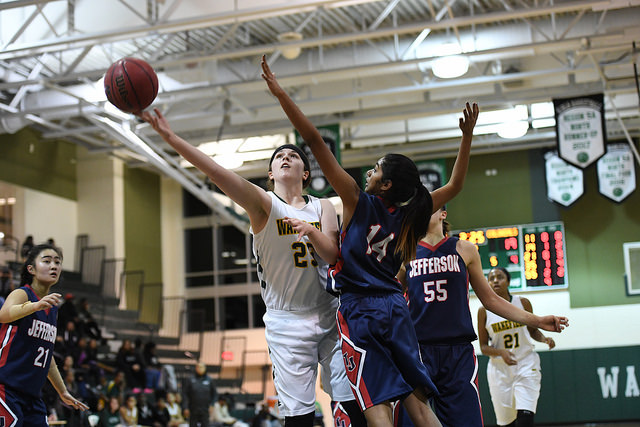 Another shining star in the game against Marshall was sophomore Jaylea Lopez who dominated on defense grabbing 8 rebounds, freshman Neveah Wallace also had a solid defense getting 2 blocks!  Our Lady Warriors have been playing very hard and their record doesn't reflect the hard work and dedication that our Warriors have put in!
The girls have been fighting hard and all that hard work paid off against Lee High School, where our girls completely blew the Lancers out of the water! Our girls won the game 59-17!
It seems like everyone on the court was combining and everyone was scoring! Once again the trio of Nevaeh Wallace, Jami Tham, and Hannah Foley shot exceptionally well combining for 50 points! Hannah once again was on fire from the three point line dropping 22 points, Nevaeh scored 12 points, blocked 7 shots and had 10 steals, Jami also had a great game scoring 16 points and grabbing 9 rebounds!
Our Lady Warriors traveled to Edison looking for a win against the Eagles! But that win was an elusive one as our Warriors lost 60-39.
Although the loss was pretty big, the Warriors had some good things to take away; Jade Spinner and Makayla Loeffel both played great defense, Lauryn Freeman had 4 rebounds and 4 blocks, and Jami once again had a good game scoring 17 points.
Falls Church was our ladies next battle and they were looking to continue this stretch of good playing! Sadly, the Falls Church game didn't go our way. In the 64-55 loss to Falls Church, some light spots from the game were sophomore Trinity Chambers who scored 8 points, Hannah once again had a great game scoring 7 points and Jami led the team with 25 points!
Our Warriors defended the home court and made slight work with TJ, beating the Colonials 43-29! In the win against TJ, Hannah killed it, scoring 10 points, grabbing 8 rebounds, and blocking 4 shots! Trinity again had an amazing game scoring 10 points and dropping 3 three pointers!
Our girls went into the Stuart game looking to build on the momentum from the last win! The game against Stuart was a close one, with our girls winning by four points! In the 50-46 victory, our girls were lead by Freshman Taylor Thompson who scored 19 points including 4 three pointers, Jami once again had a great game scoring 15 points and grabbed 10 rebounds, Hannah once again played great scoring 11 points! Our Warriors went off defensively as well in the game against Stuart with Jayela Lopez getting 8 blocks and Jade Spinner getting 3 steals !
The next game is Friday the 26th at home against our rival Marshall! Tip off is at 7:30pm!
For the rest of the regular season, our ladies will be playing at home! Senior Night is Tuesday, February 6th at 7pm!
All of the ladies have made contributions on and off the court to make this team a success, so every one make sure to come out and see all the girls hard work pay off! #WarriorNation