Rifle Team Aims to Win
During this busy Winter Sports season, Wakefield's Rifle team is greatly overlooked! Not a lot of people know our school has a Rifle team, and even less know what Rifle team is, and even less know that they compete at the county level. I sat down with Team Captain Joey Mazel to learn more.
So first off, can you start by saying what Rifle team is. Rifle team is basically a competitive sport where we shoot precision air rifles at targets. There's three positions: standing, kneeling, and prone (prone is laying down). We have to shoot 10 record shots for each position, so there's 30 shots total, and you have to do it under 55 minutes. The highest points win, 300 hundred is the best score you can get and I shoot around 278.
How do they score? They have rings on the target. The center is 10, and then the further away from the center you shoot the less points you get.
Are you scored as a team or is it individual? It works like Golf pretty much. You get all these shooters on your team, and you try to shoot the highest score you can. You take the top 4 scores from your team, combine that and then compare it against the other team's top 4 scores. Whichever score is the highest, obviously that team wins.
How is the team doing this year? We're good. We play Landon High School, Washington-Lee, Yorktown, West Potomac… I think that's pretty much all the schools.
What's your record? In our first match, unfortunately we did not take the dub. We lost by 20 points, but that was our first match. Over the past few weeks we were supposed to have 3 matches, but they've been cancelled due to snow. It's a bummer because I feel like we really could've won those matches. We won our match yesterday against Yorktown by 19 points. It was a close match and our team really did a good job. Amy Kohan shot the highest score for the team with a 282 which really gave us a jump on the opponent. We also shot our highest team score of the year and we can only get better. Overall, it was a fun match and I'm glad our first victory was against Yorktown.
Are there Regionals for Rifle team? Yeah, there's Regionals, there's States, and then there's Junior Olympics. The place we shoot at is called Isaac Walton, and a girl that used to shoot at Isaac Walton won gold at Rio during the previous Olympics. She's on the University of West Virginia rifle team.
What are your goals as you continue to participate in rifle? Obviously to get better by myself, but to also try to help my teammates get better, so they can better the entire team and help grow the Wakefield Rifle program.
How can fans help support the team? It's hard to attend our matches, but we actually are always in need of donations. We're trying to buy some new guns, so any donations help.
Looking ahead to next year's Rifle season, why should people join the team? It's a fun sport, it's cool, you get to learn how to handle guns, you learn the safety of guns, how to shoot properly. Definitely if you're interested in the military or competitive shooting at all, this is the place to do it.
The team's next match is this Saturday against West Potomac. If you see any members of the team in the halls this week, make sure to wish them luck!
Leave a Comment
About the Contributor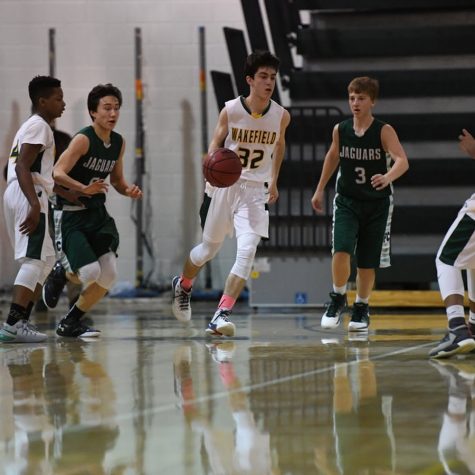 Jackson Ringger '19, Staff Writer
Hi, I'm Jackson and I'm a junior here at Wakefield. I run cross country and track, and I also play the piano. I like basketball, football, and baseball....