Wakefield Wrestling Tries to Pin Down a Position at States
Wakefield Wrestling is off to a great start this year; the whole team hopes they can live up to last year when they battled their way to States!
We sat down with a couple of the wrestlers and asked about their season, and wrestling in general. Junior Lorenzo Rajaonarivelo said what he likes about wrestling is "the work involved in it and the glory when you win." He said that he "hates losing, but there really are no losers, only winners and learners." AS we interviewed Lorenzo, the other wrestlers in the room told us to have him describe his signature move, the Fireman's carry. They said no one in this area does it better than him. The Fireman's carry is "where you basically slam your opponent after picking him up. He also likes doing a "blast double where you run into your opponent and grab them by the legs, and the inside trip in which you grab your opponent and trip him over your leg. One of Lorenzo's teammates, Vincent Galang, said that he thinks Lorenzo "has the best fireman's carry in the country."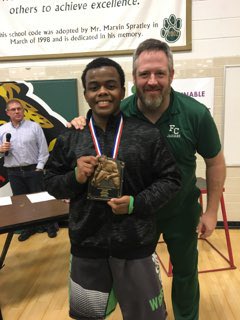 Sophomore Steven Rochard shared his goals for the season; "I want to win District and place in States." He also gave us a little bit of wisdom on how scoring works in wrestling; "You can win by minor decision which is 7 points or less, or by major decision which is 8 points or more. There is also a Mercy rule where if you are up by 15 points at any point in the match, it's an automatic win. The final way to win is by pinning your opponent, which is probably the most popular." He is going to have to use all of these ways to win if he wants to place at States.
Junior Simon Enkhbold said that "Wakefield Wrestling, right now, is the best it have been in 20 years; we're still undefeated." They will be facing the returning conference champions, Marshall, tonight. Marshall is one of our schools biggest rivals, alongside W-L. Simon thinks they have a really good chance of coming out on top in the meet against Marshall. Senior Eduardo Ortiz said, "It really makes a difference if there is a crowd there. It helps motivate you." SUPERFANS! Support our boys on the mats!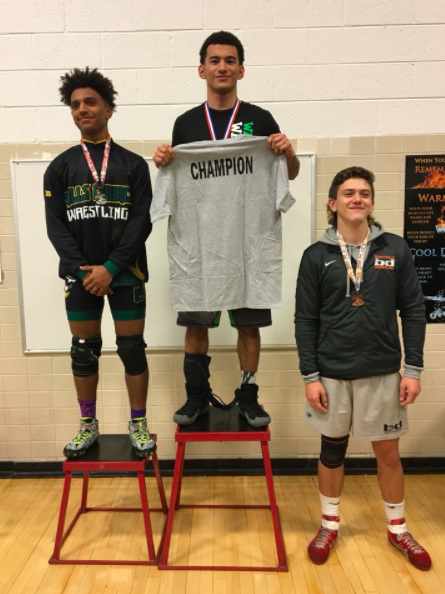 All in all the wrestling team is looking stronger than ever this year; they have gone undefeated in all competitions and have a common goal to go to States.
Go support our team as they celebrate Senior Night at 6pm TONIGHT against Marshall.
Leave a Comment
About the Contributor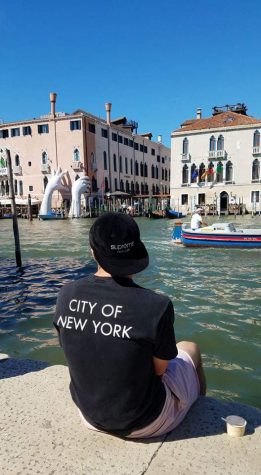 Ian Moran '19, Staff Writer
Hi my name is Ian Moran and this is my second year at The Chieftain. I'm from Munich, Germany but moved here when I was 3. I like writing sports articles...