16 Year Old Takes a Stand: Justice for Palestine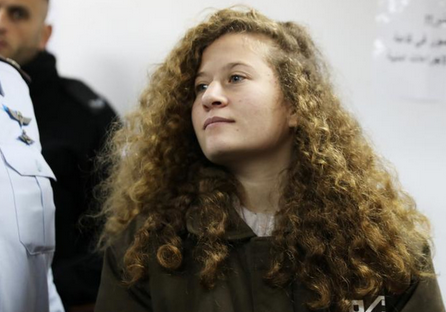 The history of the Israeli-Palestinian conflict is a complex and deep-rooted one, but here's the main gist of it: Israel and Palestine have been in an ongoing conflict over the occupation and control over a portion of land in the Middle East. The disagreement involves political control, as well as the general Arab/Israeli ethnic population of the land.
In the midst of warfare and hostility, we find 16-year-old Ahed Tamimi.
Ahed was born in a small Palestinian village named Nabi Saleh, Ahed was raised in a family known for leading rebellions against Israeli forces. Her childhood was not an easy one, faced with political chaos, fighting, and constant battling for land. Both her parents have been arrested multiple times, and her uncle shot dead.
Ahed herself first gained media attention at the age of 11, when a video of her raising her fist in the face of an Israeli soldier surfaced. In 2015, Ahed was pictured biting a soldier who was attempting to detain her brother. While she is a well-known figure in the Israeli-Palestinian world of conflict, Ahed's boldness was once again put in the spotlight after a video of her hitting a soldier spread quickly on the internet. The video shows Ahed and her cousin confronting Israeli soldiers in front of her house, which leads to Ahed hitting the soldiers.
The incident occurred soon after Ahed found out that her 15-year-old cousin Mohammed was shot by a soldier. The shot was not fatal, but Mohammed had to be put into a medically induced coma, and is now recovering, with the side of his face stitched and scarred.
The video of Ahed hitting the soldiers was taken on December 15th, and a few days later,  Ahed was forcibly taken from her home and arrested in the middle of the night by a large group of soldiers. The soldiers barged into the home, raided through their belongings, and left only after handcuffing Ahed and forcing her out of the house. When Ahed's mother came to see her daughter at a police station, she too was arrested.
While Ahed is detained and waiting for her next hearing, many have applauded her fearlessness in the resistance and taken to social media to call for her release. According to The Jerusalem Post, Ahed is jailed until the end of her trial, and is facing ten counts of shoving sholdiers and throwing rocks at them. Along with human rights groups and Palestinian supporters, Ahed's father supports his daughters drive in political action. According to Harretaz, he said, "Ahed, no parent in the world yearns to see his daughter spending her days in a detention cell. However, Ahed, no one could be prouder than I am of you."
Earning comparisons to Joan of Arc and Rosa Parks, Ahed has gained a fierce reputation as a young revolutionary. Even though she looks like another Wakefield student, she is the hero to today's change makers.
View Comments (1)