Grammy Goers Use A White Rose As A Symbol of Unity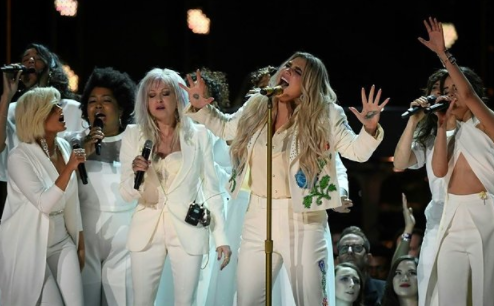 The 60th annual Grammys were this past Sunday and people are still talking about the performances. To kick off this award show, stars showed their solidarity in the movement against sexual harassment by wearing white roses. Some stars who wore white roses were Kesha, Janelle Monae, Lady Gaga, Camilla Cabello, Halsey, Kelly Clarkson, and Rita Ora just to name a few.
The choice to wear white roses was a more eye catching initiative than wearing all black in solidarity as some did for the Golden Globes. Both options were to draw attention to the prevalence of sexual assault in the industry and the country. A white rose symbolizes respect, pays homage to new beginnings and expresses hope for the future according to @TimesUpNow.
According to People Magazine, Rita Ora said, "I thought that it was just a very graceful way of showing support to, I guess, everything that's going on in Hollywood and I really do believe that the more visibility it gets, the more I think we can help, so that's why I wanted to do it."
 Kesha's "Praying" performance was memorable because it gave her the opportunity  to perform a song that she wrote for a specific man she sued for sexual and emotional abuse in 2014, a man that many people in that room who applauded her have likely worked with. Kesha's performance is one that speaks for all women who have been through what she is still going through. The sad truth is that "Praying" will always speak to women of our time unless the music industry decides to  show any sign of wanting to make real change besides trying to gain a shallow morality with supportive hashtags.