Red Cross Club Holds Blood Drive to Save Lives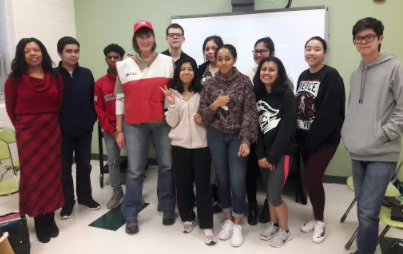 Wakefield's Red Cross Club does some amazing things for the community. From making sandwiches for the homeless, to goodie bags at Halloween, and even hosting a Toiletries Drive for Hurricane Victims, these high school club members give back to the community while balancing school work and sports schedules. One of the most important events happened in the middle of January, the annual Blood Drive.
According to Ms. Gaither, club sponsor and Wakefield Chemistry teacher, the results of this year's Blood Drive are "21 life-saving units of blood" collected. This means "a potential 63 lives saved!!" Holding a Drive is a lot of work. Why does the Red Cross Club (Follow them on Twitter @RedCrossWHS!) hold one every year? Ms. Gaither said, "The need for blood is constant, so we sponsor a yearly blood drive to do our part in helping others."
Ms. Gaither has run the club for quite a number of years. One of her favorite memories is when, "the club members, Ms. Labella and I would have 'Movie Afternoon with Seniors'. We would watch old movies monthly with the seniors at The Carlin Assisted Living Facility. Older people are often  not seen, and to bridge the gap between young and old was quite remarkable. The club members were able to spend time and interact with an age group that they would otherwise not engage with. The senior residents really looked forward to the movie afternoons." What a way to bridge the generation gap, Wakefield!
The Red Cross Club meets the 3rd Monday of the month at 3:15pm in B320. Join today and have a great time helping your community!