A Great Run For Our Boys Indoor Track Team
Our track team has had some ups and downs this season, but many of the runners performed fantastically at States this past weekend.
Senior and sprinter Xavier Taylor described his favorite moment from the season, "The best moment was when Louis Delcore ran smack into Isaish Mefford with the baton in relays." That does sound funny and no one got hurt.
Huge congrats to Isaiah Mefford, Lincoln Calfee, Avery Moore, Amanuel Haileselassie, Kirk Graham, Xavier Taylor, Josh Sutton, Louis Delcore, and Daniel Jewell who performed at States. Amanuel Haileselassi talked about his improvements from the season, "I have come a long way from the start of the season and I am proud of the accomplishments of our team."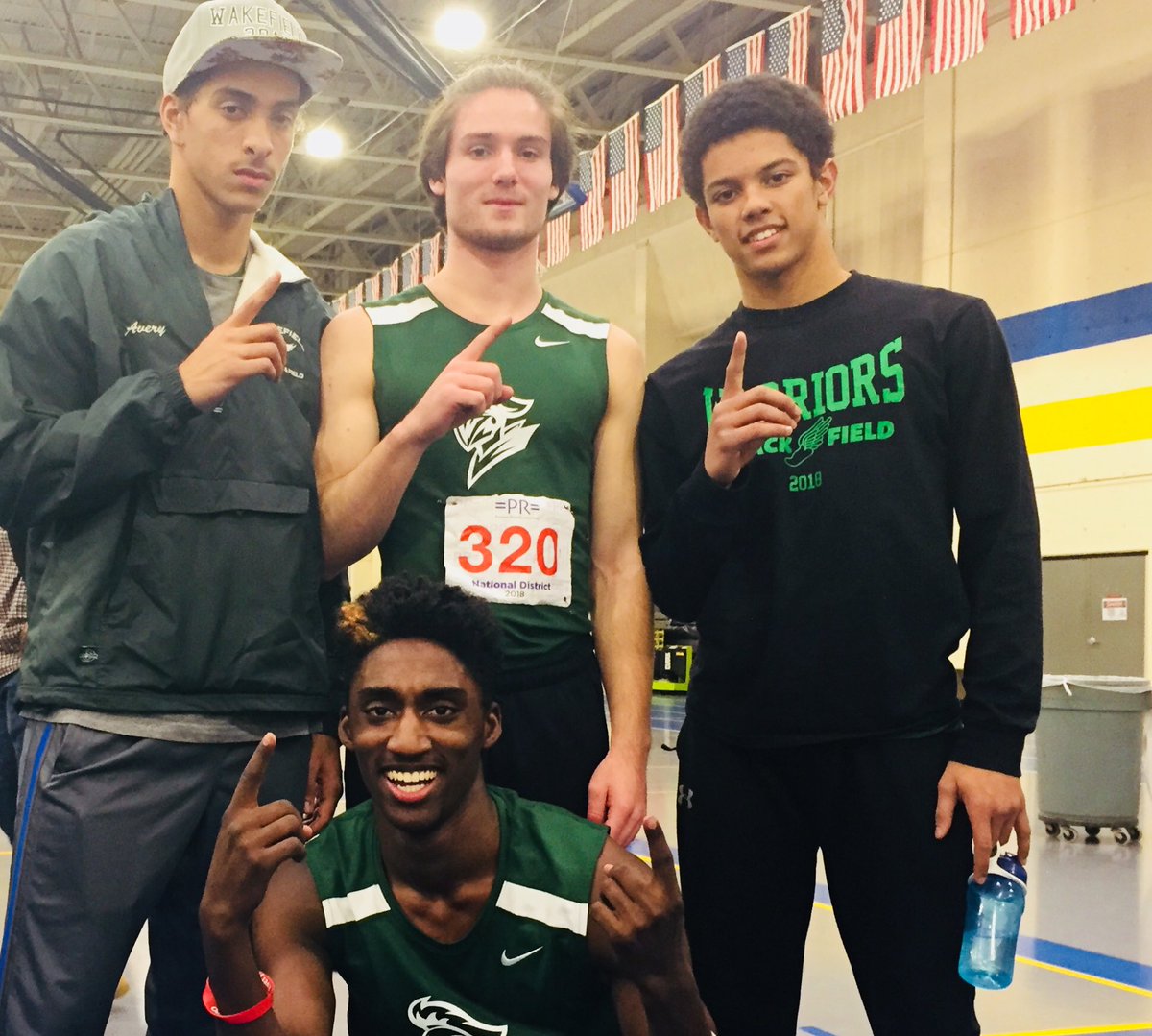 Our team had some great results at States, congrats to our 4×200 relay team for coming in 5th in our section with a time 1:36.95. Amanuel Haileselassi also had a very good time during the Boys 1600 finishing 9th in his section with a time of 4:40.78. Huge congrats to Xavier Taylor with a 3rd place finish in the 300m at States, finishing only .4 of a second behind the winner. Our Wakefield Warriors finished a very respectable 14th place (out of 34 schools) with great performances in many different events. For a full list of results click here.
Our runners have been practicing all year for this opportunity. Xavier Taylor talked about the commitment required for winning, "I practice everyday 2-3 hours so I can win all my events."
With the indoor track season wrapping up we are ready to advance to outdoor track. There are many key differences between indoor and outdoor track. Both include many short and long distance running events. The track itself is also very different between indoor and outdoor track. The indoor track is much shorter and has less lanes than an outdoor track. In outdoor track, the runners have to contend with many different weather conditions which adds a whole new challenge to the race. Outdoor track season starts now and our runners are gearing up for an exciting Spring season.
Senior Avery Moore talked about how the season shaped the team; "I am proud about our season because we had a small team this year and we were still able to compete with the bigger programs and get some quality wins."
Congratulate our runners on great achievements at States!
High Jump – Joshua Sutton – clearing 6'0, finished in 5th place
 55m dash – Xavier Taylor – 6.64, finished 9th
300m dash – Xavier Taylor – 34.88, finished in 3rd place – (Maybe a school record)
500m dash – Xavier Taylor  – 1:07.25, finished in 4th place
 1600m run – Amanuel Haileselassie – 4:40.78, finished in 16th place
4x200m relay – Kirk Graham, Daniel Jewell, Isaiah Mefford, Lincoln Calfee – 1:36.95, finished in 20th place
 4x400m relay – Louis Delcore, Lincoln Calfee, Isaiah Mefford, Avery Moore – 3:36.94, finished in 12th place
 GO WARRIORS!