5 Reasons This MLB Season Will Be Great
Baseball is back! This season is poised to be one of the most exciting in years featuring the return of the long ball, outstanding young talent, and the best free agent market in years.
This MLB season has no clear frontrunner
With the Astros improbable victory over the more experienced Dodgers our whole perception of how to build a playoff team is questioned. The way people have been expected to build a playoff team has completely been changed from the power bullpen style of the Kansas City Royals World Series win in 2014. Now the Astros have proven that the way to build a Championship team is built with excellent starting pitching, strong offense and a solid bullpen that does not require its pitchers to throw many innings.
2. The Home run is back
Last year had the most home runs in an MLB season ever. This year will have some electric power lineups including Aaron Judge, Gary Sanchez and Giancarlos Stanton in New York and Shohei Otani and Mike Trout in Los Angeles. Last year also had an insane amount of homers in the World Series which will hopefully happen again and lead to another incredible World Series.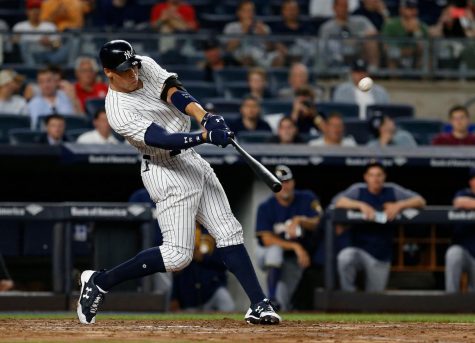 3. Young talent is on the rise
With a break out year for Alex Bregman, Carlos Correa, and George Springer young talent is definitely the way to build championship teams. This year a whole new set of talented prospects are ready for Major League action. Ronald Acuna, Vladimir Guerrero Jr., and Victor Robles, some of the top prospects this year, are ready to make their presence known in the league. Last year might have been one of the best draft classes ever featuring two way stars Brendan McKay and Hunter Greene. Hopefully this season will see the return of young talent.
4. The trade market is the best in years
This year has some of the biggest stars on the last year of the contract including Many Machado, Charlie Blackmon and Josh Donaldson. This should lead to an exciting trade deadline with many teams in the running to trade for these players to help them make a run in the playoffs. There are likely to be numerous swaps at the deadline with top prospects and big stars likely to have some new scenery in July.
5. Spending is down
Though a lot of players may look at this as a bad thing, this should help lead to some crazy deals around the trade deadline as many teams have left room in their cap space to be able to pluck big names at the trade deadline. This has left a lot of uncertainty between teams that have not decided to tank or to go for broke. With the majority of teams stuck in between the two realms, baseball will be as competitive as ever.
Keep coming to The Chieftain for more baseball action!