The Girls Relay Team Learns (a lot) at States
It is the beginning of the race. The crowd is bigger than they expected. They have made it to States. All they can think about is run. Run, run, run. They didn't know that they would learn the most valuable lesson an athlete can learn at this competition.
The girls indoor 4×200 relay team has been fantastic this season, especially getting into the big show. They came into Regionals ranked 4th, and ended up on top, getting 1st place and advancing straight to States. They got their fastest time at States. They would have won their heat…would have won. This is where that lesson comes in. They got disqualified for a minor incident where one of the runners crossed the line into a competitor's lane. Technically, it is cheating because you aren't running the same distance as the others. That step is a short cut, no matter how small. They would have won. Neither lady will take that misstep again.
That can't take away from the wins they had this season. The Chieftain sat down with sophomores Tamari Coles and Sydney Coldren (who ran the 4×200 at Regionals and States) and interviewed them about their blowout season.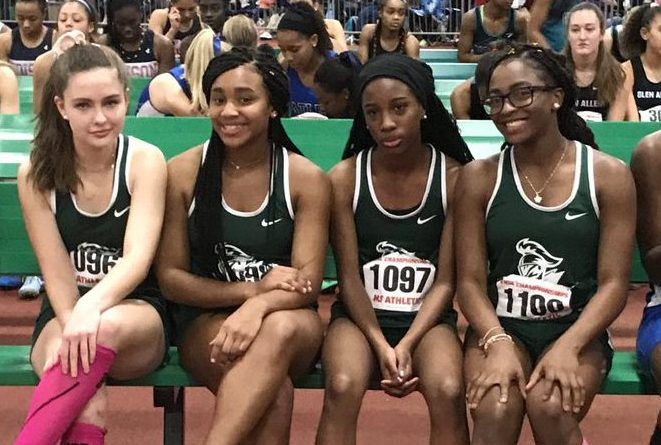 Tamari reflects back to the beginning; "practice in the beginning of the season because we didn't really know our relay team." Sydney added, "maintaining relationships with our team and with the coaches was hard at the beginning of the season." Once they got to know each other on the team it ran like clockwork. "When we bonded after we became Regional Champs, we were all really excited and became close" said Sydney. When you dedicate your time to sports you have to make sacrifices. Sydney said, "I was doing volleyball at the same time as Track, so I couldn't go to practice when I had Track. I had to give up most of my free time after school." Some days are more valuable to give up than others; "it was really hard to give up your Fridays to go to practice as well as the Saturday practices" added Tamari.
The most rewarding experience for the season was when they came in first at Regionals, "because we dusted everyone even though we came in [to the competition] as the fourth place team. The top 3 teams in Regionals advance to States" said Sydney. Their team leader on the track team was Cierra Jenkins because she, "pushed us to work hard and she was…leader for our relay team…we all looked up to her because she is our best runner and we respect her and see her as a role model" the ladies said in near unison. 
Cierra Jenkins is a wonderful role model. She will be sorely missed. She is the only female athlete who competed in two events at States. She got 19th in the Triple Jump – 33 feet, and withdrew from competition due to hamstring strain after that first jump.
This season was one to remember for our indoor track team with great success from both Boys and Girls teams. Our Warriors ran with heart and made us all proud to be students at Wakefield! #WarriorNation