Boys Varsity Lax Slashing the Competition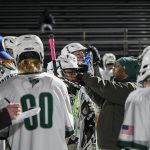 Wakefield Varsity Boys Lacrosse has not always had the greatest record of winning games. Although they changed that when they beat Robert E. Lee this year, ending a 45 game losing streak. Which is kind of a big deal, but Lacrosse, like most spring sports, usually gets put on the back burner. Most people feel it is the end of the school year and that they are just ready for summer, but watching Boys Lacrosse will make you glad you're still in school.
No matter the result of each game, or what happened in the past, the team leaves their heart on the field every single game;  inspiring their teammates while intimidating their opponents. Even though they work hard on the field, it's also lots of fun and every single game is enjoyed by the team. "I remember when I first started playing I was surprised at how hard people tried at the games; it was inspiring." says Senior Carl Barrett.
Lacrosse is different from other sports because, "you use a stick." said senior Jaylan Fall. What's not to like? Besides this, everything else is basically the same. You try to score and work together to win the game.
Lacrosse is also similar to other activities like playing music. Senior Carl Barrett let us know that when playing the guitar or drums you sometimes have to pass the highlight of a song or a specific note to someone else. While in Lacrosse you need to pass the ball to help someone else score.
This great team has their mind on winning the rest of the season while just having some fun together. If you want to see them in action come to their home game tomorrow(Friday) against Edison @7:00pm.
Leave a Comment