Wakefield Varsity Baseball: The Fight Begins!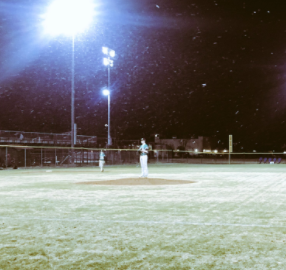 You read that headline right, Warrior Baseball fans! Your Varsity Baseball team has started their fight for the Conference championship this week!
Since the disappointing losses last year at the hands of Marshall in the Conference championship, and then at the hands of Attlee in the Regional tournament, our guys were hungry to start this season off on a high note!
The season started off against Parkview as the Warriors disposed of their opponents in an 8-1 thrashing! The Warriors' great game was spearheaded by amazing pitching from junior Zach Bako, who pitched a complete game and was also a big presence at the plate, great catching and hitting from junior catcher Alex Stampompolis who went 4-4, and threw out two guys trying to steal second base, and this was all in the cold snow. When asked about his pitching performance Zach had this to say "It was my best pitching I ever had. It was so cold that my hands were freezing to the ball. Strikes were becoming more difficult as the game progressed. I kept myself warm by always moving and focusing in on the strike zone."
The boys second game was against DC private school Sidwell Friends, this game was a tough one to swallow with the Warriors losing a heartbreaker 4-3 in the bottom of the 8th inning. Although this game was a tough one, there were some bright spots! Sophomore Max Lane pitched exceptionally, with his curveball especially getting guys to swing and miss. Junior Jack Lane  had a big day at the plate with a great double that scored a couple of runs.
The Warriors will end their Baseball filled week with a game away against Stuart! Come out and support our boys as they take on the Raiders in our first conference game 0f the year!
#Warriornation