A Concert to End Gun Violence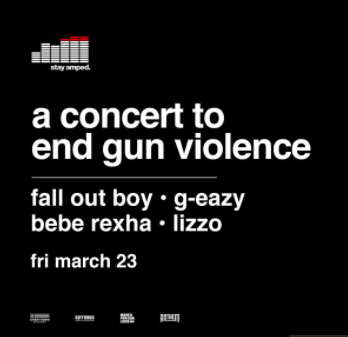 Parkland sparked a conversation that is not over yet. Gun violence is a topic that has not left our news cycle since that day. Some feel that mental health awareness is the answer. Some feel that preventing gun violence is the answer. Most feel it is a little bit of both.
In an effort to help prevent gun violence a concert will be held this Friday, March 23 at The Anthem in Washington DC. G-Eazy, Bebe Rehxa, Fall Out Boy, Lizzo and more are expected to perform. This concert will not only bring people together through music, but will also raise money and awareness to prevent future gun violence.
This event is open to all ages and a ticket is half off when you present your student ID at the door. If you want to help, but are unable to attend, you may donate to support Everytown. If you are interested in attending or donating to the cause click here. There will also be marches around the country to support this cause on March 24, including Washington D.C. It is a March for Our Lives.