Girls Soccer: Hopes for the Season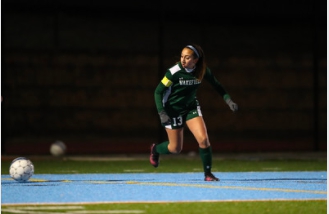 Girls Soccer has had some disappointing seasons, but with the clean slate of a new season, they are looking to change that. Two of the captains of the Varsity Team, senior Taylor Memon and sophomore Kate Capitan, shared their goals for this season.  Out of the 3 games played, they have won one and hope to get another win. This is a marked improvement from the start of previous seasons.
"
I knew what I wanted to do when I was little. I wanted to dance, get my blackbelt, and play soccer."
— Taylor Memon
Taylor told us about the hopes she had for the season; "We want to continue to grow and win; we won on Friday which was a good starting point." Kate followed with, "We want to continue our winning streak and get more wins than last year, my personal goal overall is to improve as a player and get to know the team better."
I asked them what they enjoy the most, and Taylor responded, "I've been playing since I was little, so it has just been a part of my life." "I'm a really competitive person; I just like the game," said Kate. 
Both Taylor and Kate have been playing since they were very young and have a lot of experience in the game. Taylor said, "I've been playing since I was 3. We had a little Montessori school team that I played on, I knew what I wanted to do when I was little. I wanted to dance, get my blackbelt, and play soccer. I did all 3 of those things. Kate's story was similar, "I started playing when I was 4 on the 'Fire Engines', my neighborhood team. I liked it because I got to be with my friends and my mom was the coach."
We all know our role models keep us motivated and working, Kate's role model and soccer inspiration is, "my mom, she was so good, she got a lot of offers in high school and was the first freshman to make Varsity at her school. I just aspire to be her." Who inspired Taylor? She said, "my inspiration is Julie Ertz, I like the way she carries herself and is able to lead the team as well as having her own personal life."
When asked how they want to improve this season and what they want to do the same Taylor told us, "I want us to improve our team chemistry, our ability to score and win, really get that family feeling back which I think we are doing a lot now," "If we lose I want us to be the bigger person and ride above the loss." Kate knew the team needed to gain confidence, "I really want our team to work on our confidence and our mentality because I feel like last year we would get it in our heads that "this team is really good" and "were not gonna play good", just confidence.
The girls season is starting off well and both Kate and Taylor have confidence in their team this year. We hope the girls have a great season and achieve the goals they set.

Go cheer on our Warriors on Monday, April 16th against Trinity at home at 7pm!