Tamimi Accepts a Plea: 8 Months for a Slap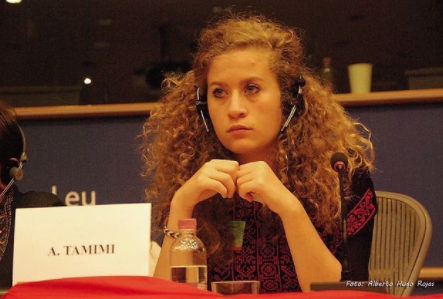 In December, a Palestinian teenager by the name of Ahed Tamimi was arrested for slapping an armed soldier who was standing on her family's property. Video of the incident went viral, and while some claimed the incident as provocative, or even staged, the 17-year-old's actions were met with a great deal of responses commending her bravery and fearlessness. Quickly becoming an iconic figure in the eyes of the Palestinian population fighting for justice, her story has been followed by the world since her detainment, and continual efforts to demand freedom for her have been expressed.
Ahed has reportedly accepted a plea deal, pleading guilty to four counts of assault. The deal will land her eight months in prison, along with a fine of 5,000 shekels (around 1,400 USD). The eight month prison verdict includes time Ahed has already spent in jail, meaning she will be released sometime this summer. Her mother and cousin, who were arrested during the same incident, are accepting plea deals as well.
While a request was made to hold Ahed's trial publicly, the Israeli court ruled against it, leading to claims from those supporting Ahed that the trial would not be held fairly. However, this did not keep the trial from maintaining attention from the public eye, and many on social media have voiced their opinions on what they believe to be an unfair trial and verdict. @jvplive tweeted "They don't want us to see, but we're all watching", in response to the rejection of Ahed's public trial. @Amnesty called her arrest "a flagrant attempt to intimidate those who dare challenge the circumstances of the ongoing occupation".
Although Ahed's actions may be seen to some as not the ideal response, the young Palestinian is making progressive strides as she brings attention to ongoing disruptions in the Middle East. Change can be made through peaceful protests or punches thrown; the actions of revolutionaries won't always be pleasing to the public. However, this brings up a larger question-does the end always justify the means? If the bravery of girls like Ahed are stepping stones to peace in the Middle East, will her actions still be seen as "provocative", or will she leave a legacy as a young woman fighting for her vision of a better future?