Women's March Madness 2018: History Made
The Women's NCAA Tournament was truly madness this year. Both Final Four games and the Championship game ended with a buzzer beater! Tension was high between the coaches and tears were shed, from the winners and losers. This will definitely be a year for the record books, but let's check the rounds to find out who was crowned our Women's 2018 NCAA Tournament Champion!
Round of 64: The first round wasn't anything crazy. There were 9 upsets that happened in 32 games, but they were pretty close. #11 Central Michigan upset #6 LSU, 78-69. Central Michigan was one of the underdogs of the women's tournament, going all the way to the Sweet 16. Another 11/6 upset was Buffalo over USF, 102-79. They also went to the Sweet 16, the farthest they had ever been in program history. There were a couple of other minor upsets, like #10 UVA over #7 California – Berkely, #9 Oklahoma St over #8 Syracuse, and #10 Minnesota over #7 Green Bay. While the men's tournament failed to follow tradition by having a 5/12 upset, the women didn't, with #12 FGCU beating #5 Missouri. All in all, the first round was pretty straightforward.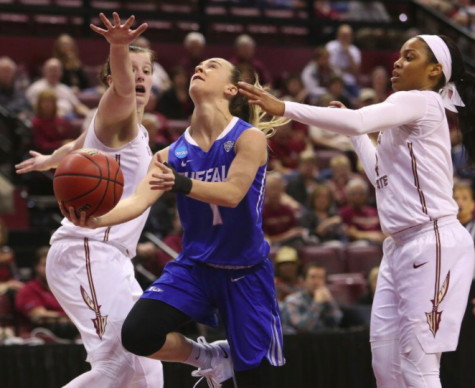 Round of 32: Upsets that happen in the first round usually don't continue to win, but there was definitely an exception to that rule this year. #11 Buffalo and #11 Central Michigan continued their historic seasons into the round of 32 beating FSU and OSU, respectively. #6 Oregon St had a big win over #3 Tennessee, just hours after the men's Tennessee team lost. Tough day for Tennessee. This round was also kind of predictable but we started to see signs of the crazy upsets that were coming in the rounds to come!
Sweet 16: Two big upsets this round. #6 Oregon St knocked off #2 Baylor, who was supposed to make a pretty good run for the 'ship this year. Former University of Maryland point guard, Destiny Slocum, transferred to Oregon State this year and although she can't play in games until next year, she gained an east coast fan base for her new school. I know I was cheering them on! #3 UCLA also had a big night, beating #2 Texas to head to the Elite 8. Texas was one of the teams going into the tournament that everyone thought was under-seeded. They were supposed to be the challenge for Mississippi St but in basketball, anyone can have an off night. Texas couldn't put the ball in the basket and UCLA put them away, 84-75. This was an impressive win for UCLA because they have been inconsistent in recent tournaments, but they found the strength on March 24th to take on the Longhorns and move on to the Elite 8. Good wins this round from some very underrated teams.
Elite 8: No big upsets in the Elite 8, but they sure were fun to watch. #1 UConn played the defending champions, #2 South Carolina, and crushed them. UConn was ahead of all game; getting steals and breakaway layups, draining 3-pointers, and playing great inside defense. A'ja Wilson, the 6'5″ senior for South Carolina, played her final game in a Gamecock uniform, scoring 27 points and pulling down 8 rebounds. She is definitely a top pick for the 2018 WNBA draft this year. UConn sophomore point guard, Crystal Dangerfield, recently came off an injury but she put up 21 points and was 5 for 7 from the 3-point line, helping the Huskies secure the win with her explosive return.
The crowd favorite, #2 Oregon, fell to #1 Notre Dame this round as well. Oregon is truly a team build on fundamental, team basketball, but they also have some killer handles. Notre Dame purely just had too many threats, and Oregon couldn't stop them all. The final score was 84-74.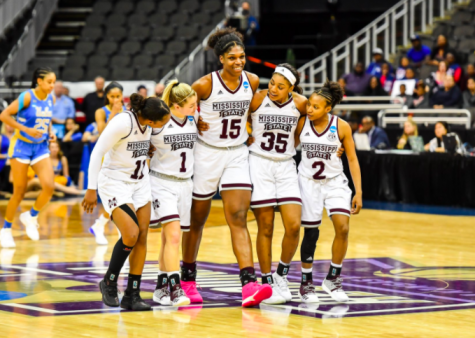 Final 4: These games are being called the most exciting final four games in March Madness history. The matchups were UConn vs Notre Dame and Mississippi St vs Louisville. Although they were all number 1 seeds, both Louisville and Notre Dame were predicted to be upset earlier in the tournament, so these games were exciting to watch. Everyone who calls themselves a basketball fan either should have watched these games live or a replay because both of these games were legendary.
Mississippi St was the team to knock off UConn last year and have had a historic season, going 36-1 before this game, but they were left hungry after losing the championship last year to South Carolina. Lousiville came out strong, starting off with the 6-0, but the Bulldogs came back. It was 31-30 at halftime, Mississippi St went ahead scoring a layup a with 4 seconds left in the half. Louisville made a run, getting up as much as 51-46, but towards the end of the 4th quarter, the game was a one-possession game. With 6 seconds left, Roshunda Johnson hit a clutch 3-pointer to tie the game, but Louisville quickly inbounded the ball and attempted to go coast-to-coast for the win, only to be foiled by Mississippi State's 6'7″ junior, Teaira McCowan, who had a huge block as the buzzer sounded. Overtime belonged to the Bulldogs. Mississippi scored first and kept the lead the rest of the game, winning 73-63. Returning to the National Championship for the second year in a row.
Notre Dame was the underdog, UConn was the favorite to win it all. The Fighting Irish started out strong, winning the first quarter, 24-14. UConn retaliated, they were up 41-34 at halftime. Everyone thought Notre Dame, like so many other teams, would be defeated and UConn would have control the rest of the game, but no one counted on Jackie Young and Arike Ogunbowale. Notre Dame struggled with lots of injuries this year, so Young had to step up, and she did on a massive level. She scored 32 points, a career high for her, and exposed every hole in UConn's defense. While Young was hitting the shots, Ogunbowale was doing the rest.The junior guard out of Milwaukee, Wisconsin is the workhorse of the Fighting Irish; she was hustling on defense to get rebounds, shutting down UConn's amazing shooters and still managed to put up 27 points of her own!
The game was back and forth in the second half, UConn got up as much as 8 points, but Notre Dame came roaring back. With 1:30 left in the 4th quarter, Young hit two free throws to put the Irish up by one, 75-74. After Ogunbowale hit a jumper and two more free throws, the score was 79-74 with 21 seconds left. The game seems over, but you can never count out the Huskies. A quick 3-pointer by junior Napheesa Collier, and then a steal and layup by senior Kia Nurse tied the game back up with 10 seconds left. Each team got another chance to win, but neither could capitalize on the opportunity. This game was headed to overtime. Overtime was tight, neither team was never up by more than 4, and with 30 seconds left, the game was tied, 89-89. Notre Dame had the ball, they ran down the clock to 14 seconds then called a timeout. One of two players were going to get the ball, Junior Jessica Shepard in the post, or Ogunbowale. Shepard was double teamed so they got the ball into Ogunbowale. She was given space to go one-on-one with Collier, a sweet cross up followed by a step back gave Ogunbowale just enough space to let a shot go… SWISH! The Fighting Irish had just upset their rivals and were headed to the National Championship game!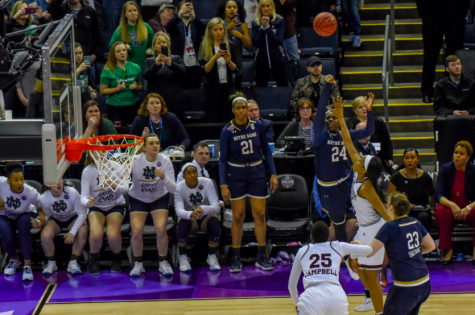 The National Championship: If you didn't already believe this tournament was going down in history, this game would assure you. It started out close, the score went back and forth, but in the second quarter, Mississippi pulled ahead. They were up 30-17 at halftime and, once again, everyone thought Notre Dame was done and Mississippi State had the game locked up because the Irish couldn't mount a major comeback again, right? Well, there is a reason they are called the Fighting Irish, because they never stop fighting. At the end of the third quarter, the score was tied, 41-41. One quarter left. Another familiar position for Notre Dame, neither team was up by more than 4 points at a time, and with 46 seconds left, the score was tied. Both teams had opportunities to score and failed. With 3 seconds left, the Irish called a timeout. Amazing that they could be in the same position in back to back games. And who could the ball go to? The girl with ice in her veins, Arike Ogunbowale. One-on-one, for the win. It seriously looked like Ogunbowale couldn't even see the basket, but that muscle memory kicked in and she hit it anyways.
This tournament was historic and will forever be remembered in the basketball world. Can't wait for next year!