Senator Tim Kaine Visits Wakefield To Talk Gun Control Measures
Just before Spring Break Senator Tim Kaine came to Wakefield to talk to students in Mr. Grill and Ms. Cottrell Williams classes about various topics concerning the youth of our generation. The main topic discussed was the subject of comprehensive gun control.
"You're shaking us out of our complacency and challenging us," Kaine said while discussing student involvement.
Senator Kaine mentioned several times a desire to allow the Center for Disease Control and Prevention to conduct public health research on gun violence, as well as expanded mental health services and funding. He also said he supports cutting down on the power that interest groups have over Congress.
Senator Kaine discussed with Wakefield students about his plan to combat gun violence and school shootings, and about having an open discussion on the Senate floor addressing this issue.
Many of the Senators responses were not over assault weapons but on high capacity magazines, at one point saying that it is easier to write a bill outright banning high capacity magazines with over ten rounds than it would be to describe every detail of what is broadly called an "assault weapon."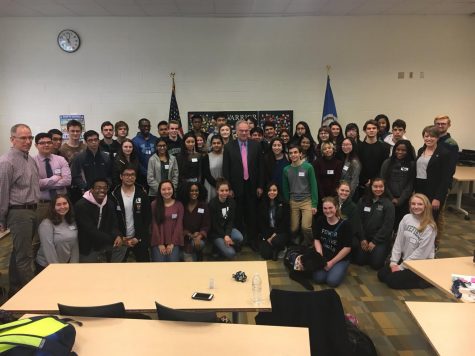 When asked about HR.4909 or the "Stop School Violence Act" that has passed  in the house Senator Kaine had this to say; "I think there are some real positives in there, it has some bipartisan support in the Senate, but it doesn't substitute a floor debate… I don't think one proposal should be the end of this issue."
Senator Kaine conducted a Q&A with Wakefield students after he talked to the students.
A Wakefield student asked Mr.Kaine what his opinion Senator Kaine had this to say about the student-led walkouts and the March for our Lives events, "The activism of young people is making me hopeful again."
Senator Kaine's visit to Wakefield was a great honor and we appreciate the time he spent listening to our voices and our concerns.
Leave a Comment