Equal Pay for Women: We Shouldn't Be Asking Anymore
Women are paid less than men. Not because they do different jobs or are producing less product, they are simply paid less because they are women. All across the world this is true, but especially at home in the USA.
"
One-third of Americans don't believe the gender wage gap exists."
The US Census Bureau showed that in 2016, the average American women earned about $0.80 for every $1 that men earned. That means they would have to world 47 more days a year to make the same amount of money as a man doing the same work would. According to Pew Research Center, while the gap has improved since 1980, there has been almost no change in the last 15 years. Talking about pay is an uncomfortable subject for some people, but if we don't talk about it, we won't have the proof to back up our claim.
According to Lean In, an organization that encourages women to stand up for themselves, one-third of Americans don't believe the gender wage gap exists. There are tons of examples of stories of women who tried to fight for their earning and lose, but luckily, there are a few stories of women who stood up for themselves and beat "the man", gaining equal pay from their counterparts. Here are just a few of their stories.
Iceland is a perfect example of a country that believes in the gender gap and took action to fix it. Since 1961, Icelandic law stated that everyone should have equal pay for equal work. Parlament declared that as of the first week of 2018, companies are required to prove that they pay male and female employees fairly. This is a global wake up call, it is possible to have men and women paid the same.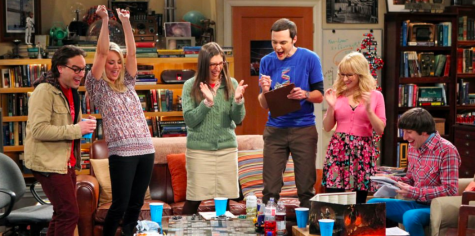 The Big Bang Theory is a multi-Emmy, Critic, Golden Globe award-winning show, but even they struggle with equal pay for different cast members. There are 7 main cast members on the show. Five of them (Kaley Cuoco, Johnny Galecki, Kunal Nayyar, Simon Helberg and Jim Parsons) were the some of the highest paid comedy TV actors ever, making $1 million per episode. However, while this show has regularly taken the top ratings at their time slot, the remaining two cast members (Mayim Bialik and Melissa Rauch) made $100,000 per show.
While Bialik and Rauch do play smaller roles, only on screen for about half of the show and sometimes not at all, both of their characters are married/engaged to primary characters on the show and have been receiving more and more airtime as the show has gone on. Before committing to season 11 and 12, Bialik and Rauch's agents spoke to the studio about increasing their pay. When the ladies' costars heard the amount they were being paid in comparison, they offered to take a pay cut to ensure their costars got a fairer salary. Each of the five will take a $100,000 pay cut per episode, freeing up $500,000 to be split between Bialik and Rauch. Thank goodness they came to an agreement too, because if the series ended with the Sheldon/Amy proposal there would have been riots in the streets!
The story of the US Women's National Hockey team is inspiring and empowering. Hockey has been stereotyped as a "mans sport" for a very long time. Women who play it are often scoffed at for being so aggressive, even though they are playing just as hard as the men. These women, who don't just play for the national team but also in a professional women's hockey league, represent our country in global tournaments and do it well. They have medaled in every Olympic games, World Championship and Nations Cup they have ever played in, and they honestly don't receive the respect they deserve from our country, and more specifically, US Hockey.
These women have been disrespected time and time again. They are only paid $20,000 for every four years they play on the team. When US Hockey unveiled a jersey with all the historic moments from their organization, they left off the inaugural women's hockey Olympic games, in which the women took home gold. And the disrespect continues with the developmental team basically being nonexistent due to lack of funding. The team tried to talk with US Hockey to increase their budget across the program but with negotiations going nowhere, the US Women's Hockey team went on strike, threatening to boycott the 2017 World Championship.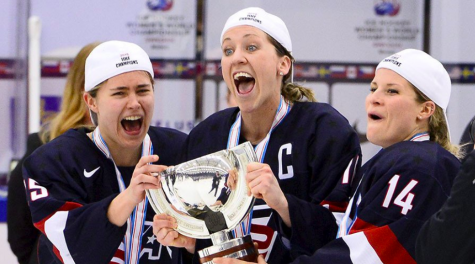 The players released a statement explaining why they were boycotting. Simply put, they wanted to be treated equally to the men. They wanted the same budget for the youth teams, travel expenses, staffing, equipment, and marketing. Most importantly, they wanted the financial stability to just play hockey, not work other jobs. All these women wanted was the respect they earned after representing our country every time they put the jersey on.
The boycott sparked a movement across the country. The hashtag #BeBoldForChange was being used to show support for these women in their fight for equality. Other sports women's teams started weighing in. US Women's Soccer star, Alex Morgan, voiced her support on Twitter saying, "From one USWNT to another, we are behind you. Everyone help our USA women's hockey team in fighting for what's right. #BeBoldForChange." The captain of the 1980 US Men's Hockey team, the Miracle on Ice team, Mike Eruzione tweeted, "Good luck to the women's US hockey program as they hopefully can come to an agreement with USA Hockey. You have my support."
The 23 players understood that they could be cut, and many of them didn't have a job to fall back on, but they stood their ground and on March 28th, the women reached an agreement with US Hockey that gave them equal treatment to the men. The team immediately responded by winning the World Championship, 3-2, against their rivals, Canada.
In 2015, the US Women's National Soccer team started a movement called Equal Pay for Equal Play, which brought attention to the crazy pay gap between the men and women's national teams. The numbers reported were crazy. The women earned nearly a quarter less than the men, despite generating 20 million dollars in revenue, while the men's team was losing money.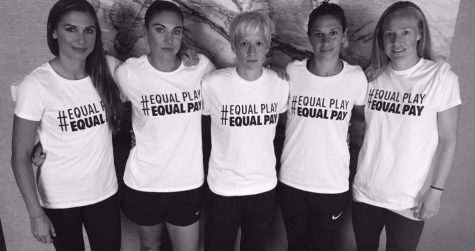 Coming off their 2015 World Cup, the ladies decided it was time they got a raise. They had proven that they were the best in the world, winning both the Olympic gold and the World Cup in the most recent tournaments. There were lots of debates about ratings and fans, did the men really have more people following them? While we can't count the number of fans, we do know that the Women's World Cup peaked at 31 million people watching the final game, and we can't really compare the men's team since they couldn't get past the round of 16, but the US ratings for the 2014 world cup final was 24.7 million.
Negotiations got ugly. A friendly game with Trinidad & Tobago was canceled in protest of the terrible field conditions, the turf was literally being pulled up as the players ran on it. Going into training camp for the 2016 World Cup, the ladies discussed boycotting the Olympics until their demands are met. The team fired their representation around this time but still competed in the Olympics. The new representation immediately improved talks.
Finally, on March 4th, 2017, the women's team finally came to an agreement with US Soccer on a new contract. They received an increase in base play, improved travel accommodations and field conditions, greater US Soccer support of the National Women's Soccer League (NWSL), support for pregnant or adopting players, and an equal per diem (pay per day) as the men's team. These ladies are just another example of strong women standing their ground in hopes of closing the gender wage gap.
The gender wage gap is very real, but there are things that can be done to close it. The Lean In campaign talks about women speaking up for what they deserve. Not always, but sometimes all you need to do is speak up for yourself. But it's not just up to women to make the change. Let's follow the example of Iceland and base salaries not on gender, but on the product they produce.
We can close the gap, forever.
Leave a Comment
About the Contributor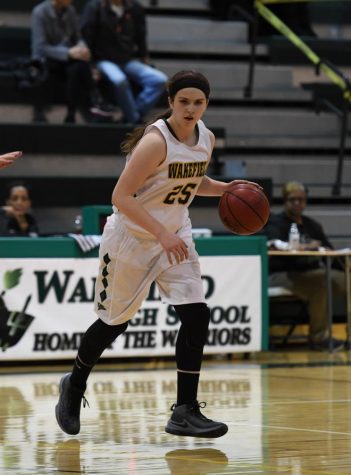 Hannah Foley '19, Staff Writer
Hi, my name is Hannah. I am a senior and this is my second year as a staff writer on The Chieftain. I'm also the captain of the basketball team and a student...