Student Spotlight: Grace Kalfatovic
Girls Tennis Team Moves up to 3rd in District
Last Wednesday, the Girls' Tennis team went head to head with J.E.B. Stuart High School. It was a very close game, but the Wakefield Warriors worked hard to pull off a sweet victory with a 5-4 win. With this win, our Wakefield Girls' Tennis team has been bumped up to third in the district.
Grace Kalfatovic, a junior who won both her singles and doubles this past Wednesday, expressed how she felt when she found out; "it was incredible. At Wakefield especially, tennis isn't really seen and a priority sport. I feel like if we can keep moving up and showing what we're made of, that's gonna get us a lot more recognition, and we've just taken the first step."
Grace has been playing tennis since she was seven, when she began playing for fun. She started playing competitively since middle school and hasn't stopped since. When it comes to motivation she said, "I play for myself, but also my team. People tend to think of tennis as an individual sport, but on our high school team every match that you win counts towards the team."
Her motivation is especially important for her, since she has consistent challenges to overcome in the sport. She has an obstacle that she may never be able to completely get rid of…constant injuries. She has a knee issue on both her knees, shin splits on both of her shins which have spread to her ankles and feet, and tennis elbow which have spread to her shoulder and wrist. She said she just "has to keep going and not let it get into my head since I have to learn to live with it."
As for team goals for the rest of the season, she wants to get more overall wins since they've had a lot of really close matches. She believes that since the team as a whole has improved so much since the first half of the season, they have a really good chance at achieving that goal.
Since last Wednesday, the girls have had two matches against Washington Lee and Marshall which they unfortunately lost. While they lost, the J.E.B. Stuart game has allowed the team to realize what they are capable of and are able to achieve by giving them more confidence in themselves.
Make sure to go to Senior Night for the Girls' Tennis team against Edison on May 3rd to see how they've stepped up their game.
Leave a Comment
About the Contributor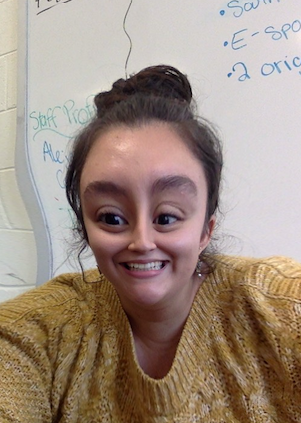 Carla Barefoot '20, Co Editor-in-Chief
Hey guys; I'm Carla. I'm a Co-Editor in Chief on The Chieftain and this my third year in journalism. I like to listen to all different genres and languages...