The Warriors Defeat the Generals In A Muddy Fight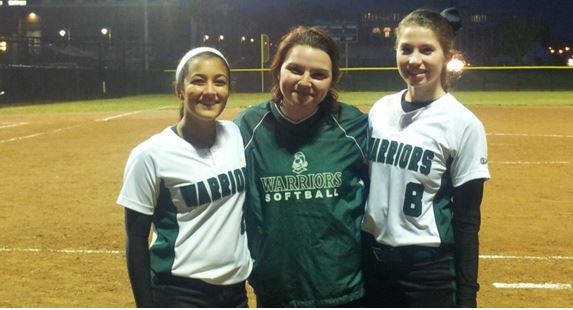 The Wakefield Warriors crushed through the W&L Generals, 9-5, on Monday night. The dark skies and pouring rain did not put out the fire in the Softball Warriors.
Wakefield won as a team; the pitching and hitting prowess of Sophomore Pitcher Marisa Defranco and the hitting accuracy of Senior Catcher Madeline Periandri-Harrelson definitely helped. Junior Short Stop Taylor White was a big factor in this success as well. White hit well, bringing in two runners home with a triple. These three girls are very special to the Varsity Softball Team's success; you can call them The Big Three!
After the game, the Chieftain spoke with Marisa Defranco. When asked about the pressure of winning Marisa said, "I usually rely on my teammates to ease with the pressure, like Taylor and Madee. Having a goal, which is to play softball in College [also motivates me]." Marisa said one thing she had to overcome in this game in particular was the rain; she doesn't like to pitch in the rain. These ladies made plays on both sides of the field, defense and offense. They helped to win the game by striking out batters and hitting inside the park home runs, even when the tumultuous weather tried to interfere.
Overall, the team record is 5-5, and they are also 3rd in Conference 13!