Girls Soccer: Best Season in Years
Watch the Girls Play at Senior Night Tonight
Girls Soccer has had their best season in 3 years! With some new confidence and teamwork, they have managed to win 3 and tie 2 games with 3 games remaining. Captains Kate Capitan and Taylor Memon told us how they have met their goals this season. "We've definitely come a lot farther than we ever thought we would this season," said Taylor.
When asked how the team came together this season, Kate and Taylor had similar opinions. "We've really grown our family environment; we lost that for 2 years, so it's good to have that back" Taylor said. Kate continued, "I think our mentality has changed a lot, we used to have this stigma in our head that we're always gonna lose and that's definitely changed." Taylor added, "Our coach, Ashley Neal, has had a really big part in our mentality change. She taught us that you don't have to be the underdog; you can always work hard, and working hard will lead to good things."
We all have our favorite moment during a season and for Taylor and Kate this was their game against Annandale. "We scored 3 goals against Annandale and it felt great!" said Kate. "We also managed to win 5-0 against Trinity Christian this season."
Every season has ups and downs, and for Taylor the hardest point in the season was the game against Edison; "we should've played a lot better than we did, and we ended up losing 6-0. We weren't really working together, it was just a rough game." The players rallied and bounced back from the loss. That is what true champions do. They learn from failure.
Kate's biggest inspiration this year is "Coach Neal; what she says is really inspirational and she teaches us that it's on us to do well or make the decision to work hard." She also said, "we need to keep up the mentality because next year we're gonna lose a lot of key players, around half of our starting lineup." The team is starting to think about next year to be prepared. 
The girls have had a great season so far, and they are looking to end it with a bang. They have three regular season games left.
Go support the girls at home for Senior Night TODAY as they face off against Thomas Jefferson at 7:15pm. Go Warriors!!!
Leave a Comment
About the Contributor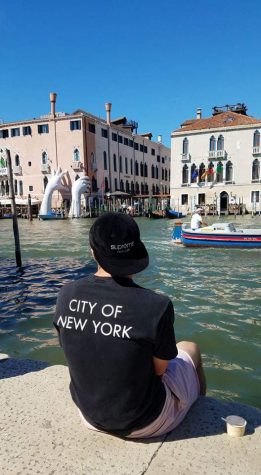 Ian Moran '19, Staff Writer
Hi my name is Ian Moran and this is my second year at The Chieftain. I'm from Munich, Germany but moved here when I was 3. I like writing sports articles...