The 2014 Washington Nationals: Achieving Expectations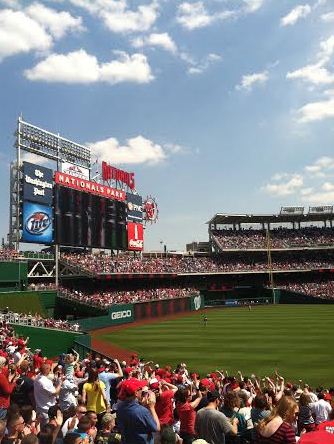 Expectations. The 2013 Nationals were picked to at least go to the World Series, if not win it all, but with injuries, poor hitting, and a relatively young roster, the Nats didn't even make the playoffs. The core of the roster is still the same as last year, but the biggest difference is the experience that the Nationals gained from last year.
The Nationals pitching staff is arguably the strongest in Major League Baseball, with three returning aces in Stephen Strasburg, Jordan Zimmermann and Gio Gonzalez, a solid free agent acquisition in Doug Fister, and an inexperienced, but promising arm in Taylor Jordan. While the Nationals' hitting has struggled in the past, their pitching staff is strong enough to keep them in games they would otherwise have no business in.
The Nats have potential to be one of the best fielding teams in the league, but injuries and inconsistency have hurt them. Adam LaRoche is a sure handed first baseman who can hit with power, but struggles with hitting for average. The middle infield features two strong fielders in Ian Desmond and Anthony Rendon, who can also swing the bat really well. Ryan Zimmerman, the face of the franchise who is in the beginning of his $100 million contract extension, has struggled with injuries that have affected his throwing accuracy. In the past, he has been a gold glove third baseman, but inconsistent fielding will inevitably force him to move to first base.
The Nats outfield has a mix of youth and experienced players with Jayson Werth, Bryce Harper and Denard Span. All three are great hitters and can cover a lot of ground in the outfield.
The healthier the Nationals stay, the better. Just a few games into the season, the Nats already have a few injuries. Wilson Ramos, their power hitting catcher, suffered an injury in the first game of the season, and so he will be replaced by a catching duo of Sandy Leon and Jose Lobaton. Doug Fister, who was a prized offseason acquisition, had elbow inflammation for most of spring training and strained his lat on March 27th pitching in a minor league game. Fister will return in late April or early May.
Matt Williams, the Nats rookie manager, will have a big job ahead of him. Although nobody wants to label this season as a "World Series or Bust" (Former manager Davey Johnson stated last season was such), the Nats can't sit back and just rely on talent, they'll have to go through some adversity to have a successful season in the end.