Girls Crew: A Winning Family
The crew team at Wakefield is a family. People who join are hard workers and all want to win. Last week at States, two boats medaled to clinch their spot at Nationals. But before Nationals, the team heads to Stotes this weekend. The girls are very close, even while they were being interviewed, they were sharing chairs in Town Hall. You could see how much they enjoy each others company.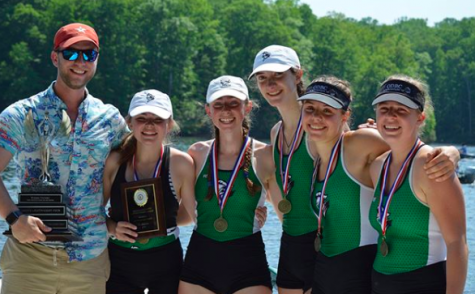 The Girls lightweight four showed out at States. They got a gold medal with a time of 5:41.2, 10 seconds in front of second place! The ladies in this boat were senior and captain Astrid Henkle, senior Grace Peterson, junior Lee Fredrick, junior Antonia Kotliarov, and junior coxswain Parker Michos. Astrid said, "It was kind of surreal, I didn't think it actually happened. Like it took five years to get to that place and it was amazing." She has been an anchor for this team since she started. She and Grace were the only seniors in the boat, with the remaining three being juniors. Coxswain Parker Michos said, "as the only 3 juniors in our boat it was really a goal of ours to help the seniors get first place. That trophy is for them." 
The double scull boat, rowed by juniors Rebecca Nance and Liz Kelly, shocked everyone. They beat West Albermarle, whom they had come in behind all season, by 1 second to claim the silver and a trip to Nationals! These ladies are particularly impressive because they do a different kind of rowing then everyone else, and they had only been doing it for two months. Sculling is when you use 2 oars per person, and since they were only a two-person boat, they did all the steering themselves. Liz said, "we worked really hard and had a morning practice at like 5 AM. I had never sculled before and it was really frustrating, but me and Bek, we pushed through." Rebecca agreed and said, "We just worked really hard and had been 3rd all season so to be able to push ahead and only be 2 seconds from first when we were previously 28 seconds behind the boat we lost to, was a pretty big achievement and I'm really proud of how far we came."
"
We used to just go to regattas to have fun, and now we go to win."
— Senior captain Astrid Henkle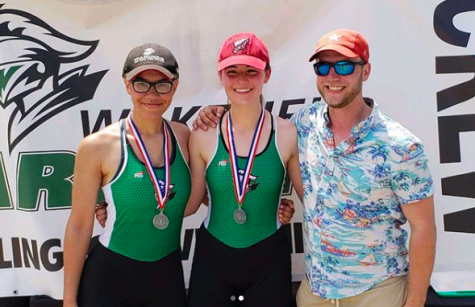 Both teams have a new coach this year, David Noyes. He has changed the way the girls have practiced and they have gotten the results. Parker said, "our coach, Coach David, is really intense about getting meters rowed, and so this year, compared to last year, we were actually more proactive about getting out on the water and using our water time to the best that we could. So we would have morning practices two or three times a week, every week, and we would row all the way down to the Potomac every day. But…[the] results are there and it worked so, yeah, he knows what he's doing." Astrid agreed and said, "we used to just go to regattas to have fun, and now we go to win."
This weekend, the whole girls' team is at The Stotesbury Cup Regatta. It's one of the biggest events the team competes in all year. But, due to the girls' recent success and the new coaching method from Coach David, expectations are much higher this year. Parker said, "this Stotes is different than past Stotes…most of the time it's just been 'oh, Wakefield, it's good if you even make it out of time trials' like that is enough, but this year Coach David has emphasized that he is expecting more…and there is more at stake." The Girls' lightweight four compete at 2:06 on Friday, top 12 advances to Saturday's semi-finals. The Girls double competed at 8 am this morning, they got fourth place and will be advancing to the finals tomorrow at 1:09 pm! All of these times are subject to change because of weather. Results can be found here.
While this season is not done yet, the team did talk a little about how much they will miss the seniors. Both have been valued members of the team for years, helping them build it up to become State champions.
The team reflected on their captain as she will be graduating after this year; Liz said, "I would like to say that Astrid is the best team captain. She is so supportive, she's someone to look up to and we're all going to miss her so much next year." Parker added, "I don't think we would have this success without having her here as a rower or as a role model. She's just a really inspiring person to look up to and have around." Astrid has raised the bar. Antonia said, "Astrid is one of the reasons I decided to stick with (crew) because I know when I started I was like, 'I want to be like Astrid' and then all of the fall season I was like 'one day, I will be like her!'" Reflecting what everyone was thinking, Lee said, "She's been a really big role model for all of us."
Rebecca said, "I've always looked up to Astrid because she's always been someone I'm trying to catch up to because she is just someone who you want to be like. I hadn't planned to come back this year (to crew) but I thought about how Astrid had stuck through all the hard times and I was like "I really want to come back to see Astrid through her senior year."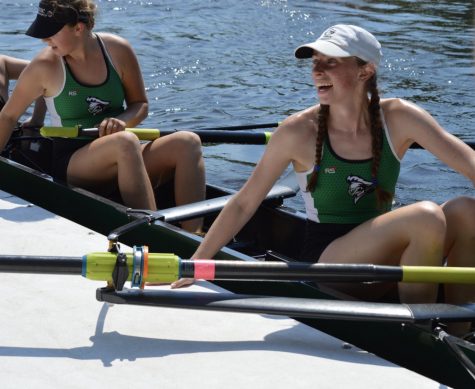 They also talked about how much of an impact Grace Peterson will leave on this team; Liz said, "she's so supportive and she's got such a peppy personality."Astrid added, "I'm very happy I got to share my victory senior year with Grace. She's such a sportsmanlike person like even when she got her concussion sophomore year, she still came to every practice to cheer us on. She's just always there and always has a smile on her face and it just brightens up the whole practice." That glow will be felt for years to come. Rebbecca said, "you know you can talk to her if you need help or you can go to her if you just want to laugh."
Parker said, "Grace is one of those people where just being in the same area as she just brightens your day. If anyone showed up to practice unhappy I know that by the end of practice, when everyone gets off the water, everyone is smiling and it's because Grace has that effect on people and is such a positive energy in the boat."
While these seniors will be dearly missed, the team will look forward to next year. The girls' team definitely want everyone to come and compete with them. It is a lot of hard work, and there is so much to gain from it.Astrid said the crew family was "one of the reasons I was so excited to come to Wakefield, because it was a family dynamic and I was like, 'Oh, all of Wakefield will be like that!'" Rebecca summed it all up with this line, "I joined crew for the team, and instead I found a family."
Congratulate these ladies if you see them in the halls and make sure to try out for crew next year!
Leave a Comment
About the Contributor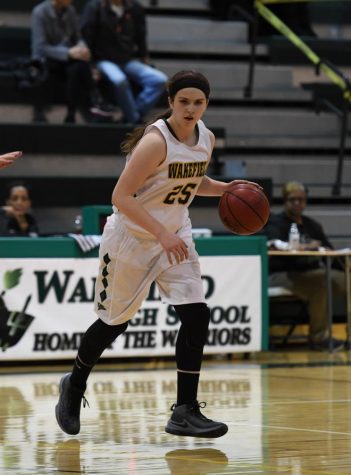 Hannah Foley '19, Staff Writer
Hi, my name is Hannah. I am a senior and this is my second year as a staff writer on The Chieftain. I'm also the captain of the basketball team and a student...