Vince Kasper Award Winners Get a Surprise!
Wakefield Art students swept the Visual Arts category in the 22nd Annual Vince Kaspar Prizes for Excellence in the Arts! The Vince Kaspar Awards are sponsored every year by the Vietnam Veterans of America's 227 Chapter and the Memorial Day Writer's project and is open to all students in Arlington, Falls Church, and Vienna.
The top 3 winner were awarded a cash prize last Friday during 2nd period. 1st place went to Isiah Calfee, with a $300 check for a beautiful picture entitled "Happy Boy" of a little boy in the streets of El Salvador with a glowing simile on his face; the 2nd place winner, Jay Chavez-Rivas, was awarded a $200 check for her photograph entitled 'Torn"; she used black and white contrast to display the color in the image invoking two different sides of her friend, and the 3rd place winner, Ryan Kovich, was given a $100 check for his photo entitled "Breadline". This picture was taken by accident while he was waiting for a little boy to move out of his shot of the FDR memorial in DC. He liked it better than the original planned shot and entered it into the contest.
There were also 3 honorable mentions as well, which helped us to sweep the contest. Each winner was awarded with a $25 check. The three honorable mention winners were Lucy Boggs, Sierra Saunders and Azziza Hasen. Lucy was unable to attend this award ceremony but she took a beautiful picture entitled "Super Shot" on a fair ground ride, Sierra took a mysterious picture entitled "The Letter" in black and white to evoke the mystery that can be found in a shadow. While Azizza took a picture entitled "See The Light" of her sister dancing with fairly lights. Azizza described her sister as having a big personality, so she thought it would be nice to capture her just being herself.
This award ceremony was a surprise for these winners. The photographers were unaware of their winning status or the cash prizes awarded until last Friday. It's amazing to see these artists get the recognition they deserve for such beautiful works of art.
Leave a Comment
About the Contributor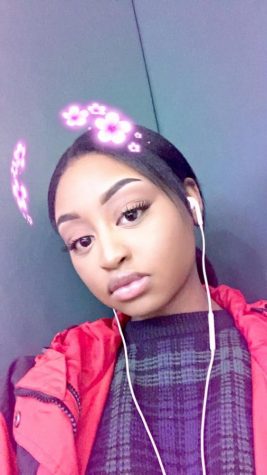 Mia White '18, Arts & Entertainment Editor
Mia is 16 and a senior. This is her first year on The Chieftain staff. She loves fashion, music, and make up. She's lived in NY for the majority of her...