The Arlington County Championship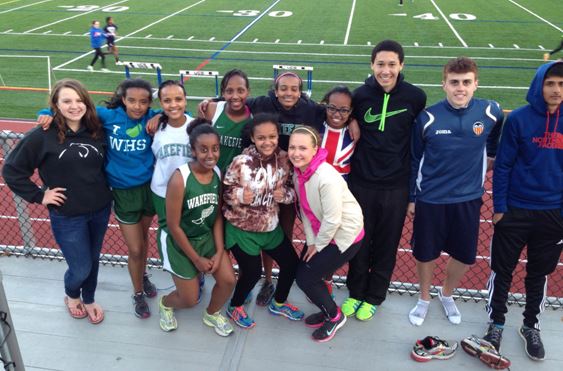 On Wednesday, April 23rd, Wakefield's Track and Field team went to Bishop O'Connell High School to participate in the Arlington County Championship.
After the meet, Hababo Jima, who turned in the best time for all Women Warriors said,  "I ran the 1600 meter run as well as the 800 meter run. The weather was good during the day, but it got chilly and windy later on. I wasn't happy or too disappointed with my time for that race because it was too cold and I wasn't mentally or physically prepared. But I really enjoy every track meet with my team; they are all supportive of one another no matter what."
Unfortunately, some of the team's best runners were injured a few days before the event. Dondre Summers and Miles Taylor worked very hard all season and received good results in previous meets and even participated in the first Northern Virginia Track and Field Invitational. Unfortunately, a day before the County championship, both runners were injured and not able to participate. Also, sprinter Sam Strobach, started the 100 meter dash and was forced to stop because of a strong pain in his hamstring.
Wakefield Track only has a few more meets remaining. Come out and support your Running Warriors. Find the schedule here: http://www.wakefieldathletics.org/